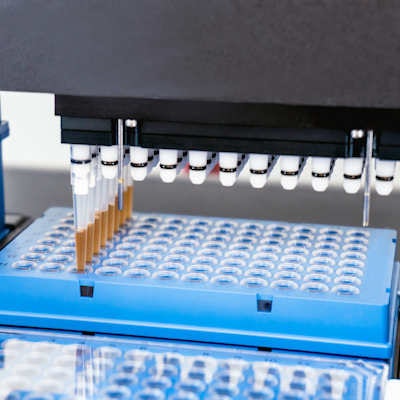 Molecular diagnostics developer Seegene is launching a new, automated, real-time polymerase chain reaction (PCR) system called STARlet-AIOS: All-in-One at this week's American Association for Clinical Chemistry (AACC) meeting in Atlanta.
AIOS integrated the company's liquid handler and real-time PCR instruments into a single system that can access a wide array of Seegene's syndromic assays. AIOS enables high-throughput, real-time PCR workflow that begins with nucleic acid extraction and continues through real-time PCR and the interpretation of results.
A key feature of AIOS is the modular design of its molecular diagnostics system, which is composed of independent, detachable modules that work with the company's software. The system was designed with an extraction/liquid handler and PCR instrument that are integrated with a robotic arm module that Seegene designed in-house.
Hospitals can purchase AIOS as a complete system or integrate it with their existing instruments if they have Seegene's liquid handler and real-time PCR instruments. The company believes that AIOS will be an optimal system for small and medium-sized hospitals.