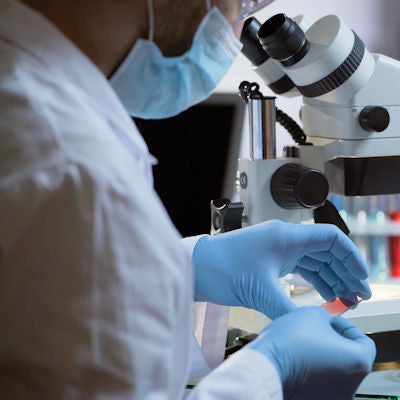 A rapid COVID-19 test that can produce results at the point of care in just 90 minutes without sending samples to a central lab has demonstrated 94% sensitivity and 100% specificity, according to a new study published on September 17 in the Lancet Microbe.
Rapid diagnosis of COVID-19 is imperative to slowing the spread of the disease. However, traditional reverse transcription polymerase chain reaction (RT-PCR) testing requires a centralized laboratory, significant infrastructure, and long wait times for test results. The new study sought to compare traditional RT-PCR testing with the newly developed COVID Nudge, a "direct-to-cartridge" test developed by DnaNudge.
COVID Nudge is a lab-free RT-PCR test that delivers results at the point of care in 90 minutes. The device has the CE Mark and is Wi-Fi-enabled, allowing it to be used in nonclinical settings with results sent securely to a hospital's record system, according to a press release on DnaNudge's website.
To analyze COVID Nudge's performance, researchers tested the device between April 10 and May 24 at three National Health Service (NHS) sites: St Mary's Hospital, Imperial College Healthcare NHS Trust, London; Chelsea and Westminster Hospital NHS Foundation Trust; and the John Radcliffe Hospital, Oxford University Hospitals NHS Foundation Trust.
In the study, researchers took two nose swabs from a total of 386 patients to compare both testing methods (RT-PCR and COVID Nudge) in parallel. Swabs were taken from three different groups:
Self-referred healthcare workers with suspected COVID-19
Emergency room patients with suspected COVID-19 symptoms
Hospital inpatient admissions with or without suspected COVID-19
The sensitivity of the COVID Nudge test varied by each of the three groups -- 93%, 100%, and 100%, respectively.
The performance of COVID Nudge at identifying positive COVID-19 samples was then compared to RT-PCR at a central lab. Out of the 386 patients, 67 samples tested positive on the COVID Nudge test, compared with 71 positive results on a range of NHS standard laboratory machines.
"These results suggest the test, which can be performed at a patient's bedside without the need to handle any sample material, has comparable accuracy to standard laboratory testing," said Graham Cooke, PhD, senior author of the study from the department of infectious disease at Imperial College London. "Many tests involve a trade-off between speed and accuracy, but this test manages to achieve both. Developing an effective bedside test in under three months has been an incredible collaboration between teams of engineers, clinicians and virologists."
The U.K. government recently placed an order for 5.8 million of the testing kits, which are currently being used at eight London hospitals. The test will soon be rolled out at the national level, according to a press release.
"Getting accurate results back to clinicians and their patients as quickly as possible makes a huge difference to how we safely manage clinical pathways and we are very much looking forward to rolling this out more widely," said Dr. Bob Klaber, a co-author and director of strategy, research, and innovation at Imperial College Healthcare NHS Trust.
The research team included scientists and clinicians from Imperial College London, Imperial College Healthcare NHS Trust, DnaNudge, Chelsea and Westminster Hospital NHS Foundation Trust, and Oxford University Hospitals NHS Trust.