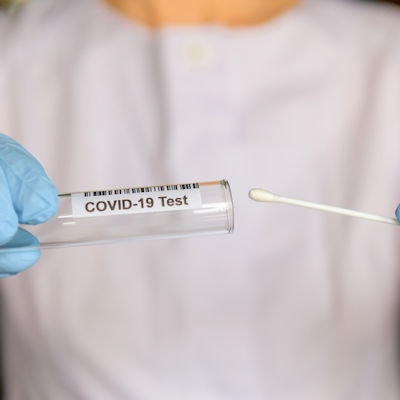 Specimens that were self-collected by COVID-19 outpatients produced diagnostic outcomes that were nearly identical to those from physician-collected samples in a Stanford University study published June 12 in JAMA Network Open. The results suggest that at-home self-collection is suitable for SARS-CoV-2 testing.
For the study, researchers compared patient-collected lower nasal swabs with physician-collected nasal and oropharyngeal swabs to see if the collection methods would yield equivalent diagnostic outcomes. They enrolled 30 outpatients who had previously tested positive for SARS-CoV-2 on a reverse transcription polymerase chain reaction (RT-PCR) test. Three specimens (one patient-collected and two physician-collected) were taken in a drive-through testing setting at Stanford Health Care.
For 29 of the 30 patients, the self-collected samples yielded identical results (11 positive, 18 negative) as the physician-collected swabs. In the one mismatched result, the self-collected nasal specimen tested positive, whereas the physician-collected nasal and oropharyngeal swabs both tested negative. This suggests sensitivity of 100% and a specificity of 95% for the self-collected swabs, according to Dr. Yvonne Maldonado and colleagues, who reported their findings in a research letter. The physician-collected nasal and oropharyngeal swabs yielded the same results for all 30 patients.
The authors noted that if self-collected and physician-collected swabs turn out to be diagnostically equivalent, patients would be able to collect specimens themselves, which could not only increase access to testing but also help reduce healthcare workers' exposure risk and use of personal protective equipment. However, they cautioned that the results are limited by a small sample size and need to be validated in diverse clinical settings.
Commercialization of at-home coronavirus specimen collection has had a bumpy ride. The U.S. Food and Drug Administration (FDA) has granted emergency use authorization for a handful of at-home nasal sample collection kits for COVID-19 testing, including offerings by LabCorp, Quest, and PrivaPath Diagnostics.
However, some tests were marketed to consumers prior to gaining FDA authorization, drawing scrutiny about product quality. In May, the American Association for Clinical Chemistry (AACC) objected to the FDA emergency authorization of one self-collection test, describing the product as "unproven."