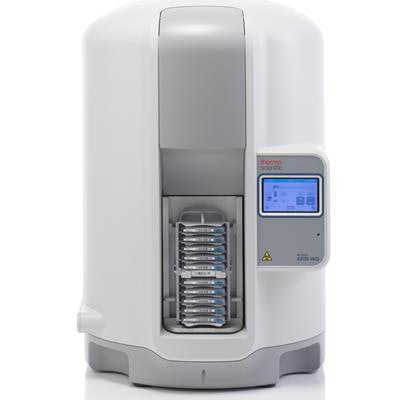 Thermo Fisher Scientific is showcasing a benchtop automated reading and incubation system for antimicrobial susceptibility testing (AST) and new sustainable culture media plate technology at this week's American Association for Clinical Chemistry (AACC) annual meeting in Anaheim, CA.
To support the optimization of decisions and patient outcomes, Sensititre Aris HiQ AST utilizes broth microdilution to provide microbiology laboratories with accurate minimum inhibitory concentration (MIC) results, according to the company. Thermo Fisher Scientific said that it has collaborated with pharmaceutical companies to include a large selection of antimicrobials, enabling access to new therapies for multidrug-resistant infections. Laboratories can also use the system to create their own custom AST plates from more than 300 antimicrobials in broad dilution ranges to consolidate and reduce offline testing, according to the firm.
What's more, the system features support for up to 100 Sensititre plates in a limited footprint; a touchscreen user interface; and batch load and unload capability. Thermo Fisher Scientific said it expects to launch Sensititre Aris HiQ AST in the fourth quarter.
In other AACC 2019 news, the company has launched its SmartPlate design for prepared cultured media products in the U.S. and Canada. Bringing together culture media prepared by Thermo Scientific Oxoid and Thermo Scientific Remel with an enhanced universal plate format, the SmartPlate technology enables clinical, food safety testing, and pharmaceutical laboratories to use automated and manual methods for analyzing microbiological samples, according to the firm.
Thermo Fisher Scientific is also highlighting the durability of the SmartPlate technology and the sustainable assay plate design that reduces the resin materials needed to manufacture each plate. In addition, SmartPlate employs stacking rings to make it easier for a large number of sample plates to be stacked and transported, the company said. SmartPlate is compatible with all automated specimen processors available in the market.
Finally, the company is directing attention to its ImmunoCap Allergen Components test for Furry Animal allergens. Recently cleared by the U.S. Food and Drug Administration (FDA) for in vitro diagnostic use, the test is designed to help improve the diagnosis of pet allergies by analyzing a patient's sensitivity to up to 11 different molecular allergen component proteins found in the skin, fur, and saliva of dogs, cats, and horses. These results can help clinicians choose better treatment and management plans by determining the primary allergen most likely causing symptoms and enabling more appropriate pet selection for potential owners, according to Thermo Fisher Scientific.