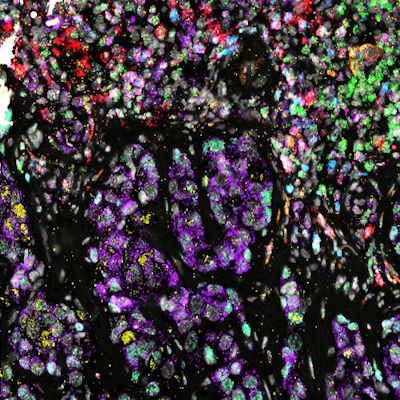 Bio-Techne has expanded its Advanced Cell Diagnostics brand's RNAscope in situ hybridization technology portfolio with the release of the new RNAscope HiPlex V2 assay for formalin-fixed, paraffin-embedded (FFPE) and fixed and frozen samples for up to 12 targets.
The RNAscope HiPlex V2 assay is designed to enable a deeper understanding of gene expression patterns at a single-cell resolution. The assay can generate precision expression data from 12 targets in FFPE samples and up to 48 targets in fresh and fixed frozen samples, according to the company.
The assay also allows for direct visualization of the transcript and eliminates the need for bioinformatics methods for analysis and interpretation of single-cell RNA sequencing data. The multiplexed assay can be performed on commonly available laboratory equipment and is customizable with Bio-Techne's catalog of RNAscope probes or custom probes for any target.
Intended for research use only, the new release positions the company to better support the rapidly growing field of spatial genomics.