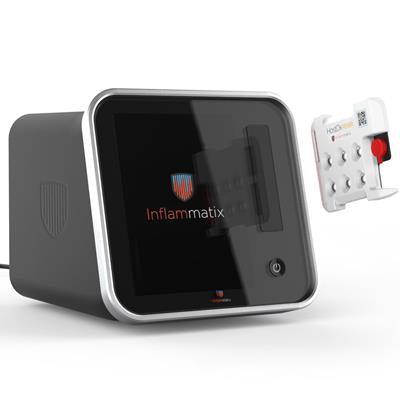 Startup Inflammatix is set to get $6 million from the U.S. Biomedical Advanced Research and Development Authority (BARDA) and up to $72 million as part of a cost-sharing contract to develop its rapid point-of-care (POC) tests for infections.
Burlingame, CA-based Inflammatix developed the HostDx multiplex isothermal platform for mRNA testing at the point of care, with results available in less than 30 minutes. BARDA is part of the U.S. Department of Health and Human Services.
In the first phase of the contract, the focus will be on developing Inflammatix's HostDx Fever test, which is designed to determine whether an infection is caused by a bacterium or virus based on gene expression patterns in the immune system, thereby helping to guide treatment and minimize the unnecessary use of antibiotics. The fever test requires a finger-stick blood sample.
In a statement, Inflammatix said the cash infusion will help it get the fever test into the clinic. Per the deal, BARDA also has options to partner on Inflammatix's HostDx Sepsis, which is also a blood test, and HostDx Fever Flu, a test of nasal swab samples. The sepsis test -- the company's most advanced product -- won the Disruptive Technology Award at the American Association for Clinical Chemistry (AACC) annual meeting in August.