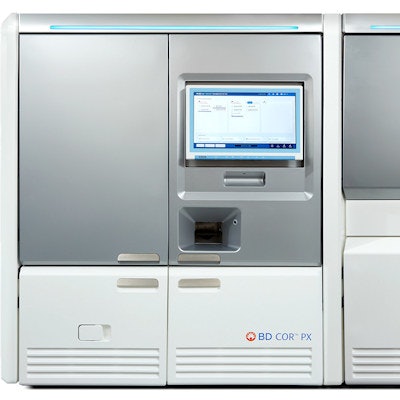 Becton Dickinson (BD) has launched a robotics-based, high-throughput molecular diagnostic system called BD Cor that will be available to labs in the U.S. that perform infectious disease testing.
The BD Cor system uses robotics and sample management software algorithms. It is modular, scalable, and designed to address multiple needs within clinical labs for expanding molecular testing and increasing testing volumes.
The system has been in use in Europe since 2019 and has onboard capacity for reagents and samples that provide six to eight hours of unimpeded system processing, eliminating the need for multiple technologist interactions that are currently required. Also, it enables the processing of samples directly from liquid-based cytology vials.
The system offers two instruments: the BD Cor PX instrument, which integrates and automates the sample workflow for diagnostic specimens and assays, and the BD Cor GX instrument, which automates the BD Onclarity HPV assay with extended genotyping.
The BD Onclarity HPV assay can be used as a component of routine cervical cancer screening programs, with indications for HPV primary screening, triage for abnormal squamous cervical cytology, and cotesting with cytology.