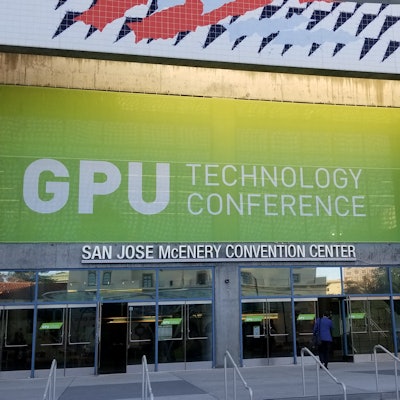 SAN JOSE, CA - Artificial intelligence (AI) is taking genomics to new heights -- pulling together and processing colossal amounts of genetic data at faster speeds, with better accuracy, and at lower overall costs, Dr. Eric Topol said in a March 19 talk at the GPU Technology Conference (GTC).
By applying deep learning and new graphics processing unit (GPU) technology to genomics, Topol and colleagues were able to increase the efficiency and precision of gene-analysis tools by a wide margin in the first five months of their ongoing research efforts. Topol is the founder and director of the Scripps Research Translational Institute in La Jolla, CA, and former chair of cardiovascular medicine at the Cleveland Clinic.
"Genomics is starting to go medical mainstream, finally," he told session attendees. "It's starting to gain momentum in sick newborns, in cancer, in young people with an illness that is ill-defined, in sepsis -- in all sorts of ways. We're starting to see it take hold, from what it was as a research tool to finally impact the lives of people."
AI personalizes genomics
AI is now making it possible for individuals to process their own data and be more proactive about their health, Topol noted. Patients are empowered by existing AI tools -- and many that are in the pipeline -- to start personalizing their nutrition and well-being.
Topol pointed to an echocardiogram of his heart that he had captured with a portable, smartphone-compatible ultrasound scanner. He believes the device offered imaging quality nearly matching that of a $350,000 ultrasound machine, and it allowed him to examine video loops of heart function in real-time. What's more, the scanner could potentially enable whole-body visualization in a matter of minutes, relying on little more than a smartphone and an ultrasound probe.
Intrigued by this notion, Topol tried capturing a "medical selfie" of his entire body using the technology. His ultrasound results revealed a dilated left kidney, which, along with his abdominal pain, suggested to him that he likely had a kidney stone. When he brought this information to an emergency physician, the physician sent Topol to get a computed tomography (CT) scan (costing roughly $3,000) that just confirmed his initial supposition.
The point is not that people should start diagnosing themselves but rather that AI is going to allow clinicians to feed large stores of data into neural networks, and the resulting, processed information is going to transform the way clinicians assess and share patient health information, Topol explained. The boost in data processing efficiency could help overcome key barriers that have hampered the mainstream use of genomics, including time-consuming processing speeds and high error rates for genetic analysis.
"This is just one piece of how deep learning is changing the face of science," he said. "Eventually, it has an effect on healthcare, as we're seeing in genomics ... which finally can have a wide-scale impact."
AI, genomics set new standard
For their research, Topol and colleagues used the Genome Analysis Toolkit (GATK), high-powered GPUs, and a deep-learning genetic imputation technique to improve upon standard genomics.
They analyzed large sets of genes and found that their AI-based method was able to reduce errors in detecting genetic variants by 90% and in spotting insertion-deletion mutations (indels) by about 50%, while performing genetic imputation 10 times faster than standard genomics analysis.
In addition, their method lowered costs by an estimated 40% to 60%.
"This is striking because we've been relatively complacent, and just by applying deep learning and GPUs ... we've made a really big dent in the problem," he said. "This [method] kind of pulled all of that [genomic] data together. And it's a story of better, faster, cheaper."
Many of the errors associated with genomics stem from not understanding each person at a unique level, according to Topol. AI can help steer genomics toward a deeper, more personalized understanding of people. Add to that continuous high-frequency biosensors, and you're going to start seeing a lot of genetic data available much more quickly.
Genomics will eventually lead to the establishment of polygenic risk scores, independent of known clinical risk factors, for most common health conditions, he added. This will allow clinicians to tell individuals their risk of developing a particular disease by referring to the genetic data they have on hand.
"Human data is going to change medicine, and it's going to empower the patient even more and even make the lives of clinicians far better," Topol said. "The point that is essential is recognizing that each human being is, indeed, unique. ... We've got a lot more to build on, but this, hopefully, can set a new standard and be open science for the genetic field."