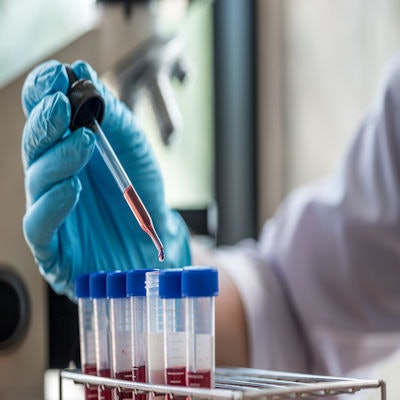 A Siemens SARS-CoV-2 antibody test outperformed immunoassays from other, major manufacturers in a large study conducted by the U.K. government and published on July 8 on the Gov.UK website.
The U.K. Department of Health and Social Care commissioned its executive agency Public Health England to evaluate commercially available antibody tests manufactured by Abbott, DiaSorin, Roche, and Siemens. The agency and a team of academic researchers compared the performance of the four immunoassays in a three-week, head-to-head study in May and June.
The study was conducted by Public Health England in collaboration with researchers from the University of Oxford and Oxford University Hospitals. The researchers performed the assays in accordance with manufacturer instructions using 536 positive serum plasma samples from adults with laboratory-confirmed SARS-CoV-2 infections and 994 negative samples stored from before the pandemic.
Tests from all four manufacturers met the specificity criteria set by the U.K. Medicines and Healthcare Products Regulatory Agency (MHRA) for SARS-CoV-2 enzyme immunoassays. But only the Siemens test met MHRA sensitivity criteria.
Comparison of performance for commercial antibody tests
Assay
Sensitivity
Specificity
Appraisal against MHRA product profile
Abbott's SARS-CoV-2
92.7%
99.9%
Meets specificity criterion
DiaSorin's Liason SARS-CoV-2 S1/S2 IgG
95%
98.6%
Meets specificity criterion
Roche's Elecsys Anti-SARS-CoV-2
97.2%
99.8%
Meets specificity criterion
Siemens SARS-CoV-2 Total (COV2T)
98.1%
99.9%
Meets sensitivity and specificity criteria
Source: Public Health England
The Roche assay, with a sensitivity of 97.2%, came close to meeting the MHRA criteria for sensitivity. With an assay threshold adjustment, the Roche immunoassay could also meet the current MHRA sensitivity criteria, the researchers noted.
In addition, all four tests could meet sensitivity criteria if MHRA reevaluated sensitivity and specificity tradeoffs and extended timeframe requirements from at least 20 days to at least 30 days after symptom onset, the researchers concluded.