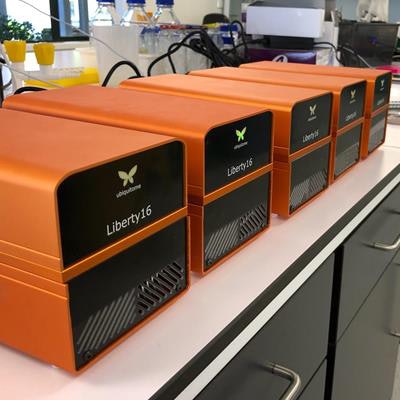 The call for a rapid test for the coronavirus respiratory disease COVID-19 is one thing that unites the press, politicians, and providers alike nowadays -- a test that is fast and accurate, showing who is infected and needs to be isolated.
What IVD technology to use? Lab-based molecular IVD tests are in development, but they can't always be where the need is. Immunoassays take long periods to develop and, generally speaking, may not be sensitive enough for a "must-know" identification task of disease.
The logical answer then would appear to be molecular point-of-care (mPOC) systems, which analyze DNA or RNA, typically using polymerase chain reaction (PCR) technology or another form of nucleic acid amplification. Molecular POC systems are small-footprint, near-patient systems that can deliver fast results. Marketed products include Binx Health's binx io for sexually transmitted infections, Roche's Liat influenza A/B assay, and Cepheid's GeneXpert systems for infectious diseases
Currently, these platforms do not include tests for SARS-CoV-2, the virus that causes COVID-19, but the potential is great. Placements in clinics, physician offices, and decentralized parts of hospitals make mPOC a good first responder if a test can be developed and systems adjusted.
Test makers are on the case
Test makers -- Cepheid, for instance -- are on the case. Cepheid recently announced that it is working with Sherlock Biosciences on tests based on the specific high-sensitivity enzymatic reporter unlocking (SHERLOCK), a CRISPR-based engineering biology platform. The plan is to design assays for SARS-CoV-2 and other infectious diseases that run on Cepheid's GeneXpert systems.
The companies are also exploring applications of Sherlock's internal splint-pairing expression cassette translation reaction (INSPECTR) instrument-free synthetic biology-based molecular diagnostics technology platform.
Oxford Nanopore Technologies is another player, having announced in January that it had shipped hundreds of its MinION units, which are portable devices for real-time DNA and RNA sequencing, and related consumables to China, the center of the novel coronavirus outbreak.
Ubiquitome is planning to develop a coronavirus test on its Liberty16, a mobile, real-time PCR system with two to three hours of battery life.
Other companies that are developing or have developed mPOC tests for SARS-CoV-2/COVID-19 include the following:
BioFire Defense: FilmArray, BioFire COVID-19 test
Credo Diagnostics Biomedical: VitaPCR platform, COVID-19 assay
Diagnostics for the Real World: SAMBA II COVID-19 test
HiberGene Diagnostics: HG Swift (can use battery power), COVID-19 assay based on loop-mediated isothermal amplification (LAMP)
Molbio Diagnostics: Truelab, Truenat SARS-CoV-2, Trueprep, and Truenat instruments
Mobidiag: Novodiag COVID-19 + influenza A/B, multiplex test
Qiagen: QIAstat-Dx Respiratory 2019-nCoV test
QuantuMDx: Q-POC, handheld
Troubling backdrop for coronavirus testing
Mobile systems have the potential to meet unmet needs at a time of disappointment about the management of coronavirus testing at the national level.
The U.S. Centers for Disease Control and Prevention (CDC) initially attempted absolute centralization of testing at its own facilities, and labs were required by the U.S. Food and Drug Administration (FDA) to get emergency use authorizations (EUAs) to develop their own assays.
The CDC then distributed its own test, but labs had problems validating the diagnostics. After the testing protocol was adjusted, the distribution of new test kits began on February 27. Soon afterward, under pressure to broaden access, the FDA provided a new guidance for labs developing their own tests and began to allow CLIA high-complexity labs to perform testing prior to getting through the EUA review process.
The number of labs in the U.S. that are qualified for CLIA high-complexity testing is on the order of 10,000 to 11,000. Based on experience with influenza, which is similar in some respects, the number of tests that are needed for coronavirus will likely rise to tens or even hundreds of thousands per week.
The U.S. government has said that in the first week of March it will make available 2,500 test kits, and with each including 500 tests, that means a total of 1.25 million will be available. If that does occur, it would appear that the immediate needs for testing could be satisfied.
But experts have questioned the expectation that all labs will operate at the capacity that may be needed -- a typical test can take an hour or more, and labs with only a few instruments could be overwhelmed by larger clusters of cases.
Another challenge is reaching all the patients who are not insured or otherwise don't receive healthcare, and the longer-term question of how to address the higher caseloads if COVID-19 continues its spread. To provide context, the flu has recently caused about 30 million symptomatic illnesses and 15 million to 20 million medical visits per flu season (primarily during four months, from November through February) in the U.S.
The overlap of symptoms with flu could create a need to rapidly scale up testing to differentiate these cases from coronavirus. Some companies such as Cepheid and Mobidiag are developing multiplex panels for flu and coronavirus to better distinguish the diseases.
POC tests high on the agenda
The U.S. Department of Health and Human Services (HHS) Office of the Assistant Secretary for Preparedness and Response (ASPR) has identified the availability of POC tests as an area of high importance. These would expand the testing capabilities beyond a few thousand labs in hospitals, academic medical centers, and public health labs to the more than 100,000 physician offices and retail clinics in the US. In particular, there is a focus on mPOC tests.
According to the World Health Organization (WHO), POC systems for healthcare facilities in rural and resource-limited settings should meet the "ASSURED" criteria:
Affordable
Sensitive
Specific
User-friendly
Rapid and robust
Equipment-free (i.e., small and/or portable)
Deliverable to end users
The mPOC systems tend to be preferable to the main alternative -- immunoassay POC testing using antibodies -- because immunoassays generally result in a lower sensitivity and specificity, with some rare exceptions. Nonetheless, immunoassays are typically more affordable and can provide some advantages in the context of larger-scale population screening, tracking, and triaging of large numbers of patients in outbreak situations. They'll play a role, but it's possible that molecular systems can get there faster and will be more effective.
Bruce Carlson is the publisher of market research firm Kalorama Information, part of Science and Medicine Group. Kalorama publishes an annual report on the mPOC market, with the most recent update published March 4.
Disclosure: LabPulse.com is a sister company of Kalorama Information.