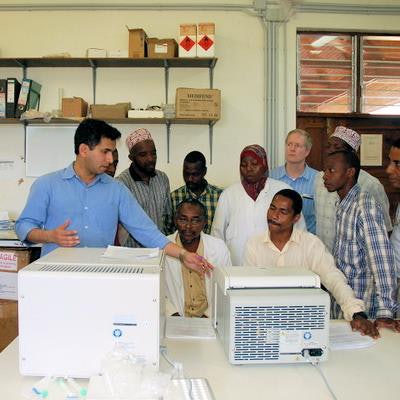 A blood test for four proteins triages patients with suspected tuberculosis (TB) and could be performed much more quickly than traditional sputum testing in low-resource settings, researchers reported online October 23 in the journal Science Translational Medicine.
The test was developed using Quanterix's proprietary Simoa multiplex immunoassay platform, which the researchers said allowed the ultrasensitive detection of very low concentrations of protein molecules, using a drop of blood. It was retrospectively tested on 317 samples from people with TB and TB-like illnesses in South Africa, Vietnam, and Peru. A multicenter, international team reported results.
The investigational test had a sensitivity of 87% and specificity of 66% for differentiating active TB from TB-like illnesses, concluded David Walt, PhD, a professor at the Wyss Institute and scientific founder of Illumina and Quanterix, and colleagues. When the researchers added antibodies against the Ag85B TB antigen to the four-protein panel, sensitivity was 86% and specificity was 69%. The test worked in samples from patients with and without HIV coinfection, they noted (Sci Trans Med, October 23, 2019, Vol. 11:515, eaaw8287).
For a single sample, it would take less than an hour to obtain results using the current instrumentation and protocol. The technology is feasible for adaptation into a point-of-care (POC) test, and while the one-hour time frame is acceptable, the researchers hope to reduce the sample-to-result time to less than 30 minutes, Walt commented in an interview with LabPulse.com.
As used in the study, the test costs $10 per sample, but the POC model would bring the cost down to $2 per sample.
"A blood-based host response panel consisting of four proteins and antibodies to one TB antigen can help to differentiate [active TB] from other causes of persistent cough in patients with and without HIV infection from Africa, Asia, and South America," the authors wrote. "Performance characteristics approach World Health Organization (WHO) target product profile accuracy requirements and may provide the foundation for an urgently needed blood-based POC TB triage test."
TB takes a big toll
The authors noted an urgent need for better TB diagnostics considering the global toll of the disease. There were an estimated 10.2 million new and relapsed cases worldwide and 1.3 million deaths in 2015.
"Recent population-based prevalence surveys in Africa and Asia have shown that as many as one in three patients with [active TB] is undiagnosed and thus untreated, with important individual and public health implications," they wrote.
Traditionally, TB has been diagnosed through the "century-old" microscopic technique of testing sputum samples, but accuracy varies depending on who is interpreting the results and turnaround time is long. With the old standard, it may take two to four days to get a culture result -- and it can take up to 10 days, Walt noted. Also, testing is not suited for children or for people with HIV.
Commercial blood tests are available but not recommended by the WHO, and the state-of-the-art GeneXpert automated nucleic acid amplification system (Cepheid) is not practical in low-resource settings where TB is problematic due to high cost and requirements for lab infrastructure, the authors suggested.
"The ultimate objective -- a highly sensitive, specific [active TB] diagnostic that could be performed inexpensively with minimal technical skill at the point of care in all TB-endemic settings -- remains elusive," the authors wrote.
Just the first development phase
The test screened for a combination of the following four proteins, selected with the help of machine-learning techniques:
Interleukin-6 (IL-6)
IL-8
IL-18
Vascular endothelial growth factor (VEGF)
Individually, these biomarkers are present in a range of infectious and inflammatory conditions, but the signature of the combination predicts TB.
"The intricacies of the immune response to respiratory infection remain a subject of intensive study; this specific marker panel would not have been confidently predicted from first principles but could only have emerged through a large-scale comparison of host-response profiles of patients with TB-like symptoms of both tuberculous and nontuberculous etiologies," the authors wrote.
They described the data as the "first phase of a comprehensive discovery-to-delivery approach." Walt stressed to LabPulse.com that the test will be developed as a triage tool to quickly and inexpensively identify people likely to have TB who need further assessment with a confirmatory test. Next steps for the researchers include looking into whether they could reduce the number of proteins from four to three or, conversely, increase the number of biomarkers to 10 to boost the accuracy over the minimum required by the WHO for triage tests.
"We are very, very close to the criteria that are required for a triage test," Walt said.
He also noted that the accuracy of the test described in the just-published article might be improved by factoring in the origin of the samples, as there are different strains of TB depending on geography, and incorporating HIV status if known.
Walt estimated that it will take another six months to one year to perfect the panel. The test is currently meant for research use only, and Quanterix is in the business of providing a platform for use in biomarker discovery across therapeutic areas -- it does not develop diagnostics.
"This test would have to be licensed and scaled by a large enterprise in the diagnostics business willing to launch products for the developing world," he said.
However, nongovernmental organizations might also get involved in driving development, he added.