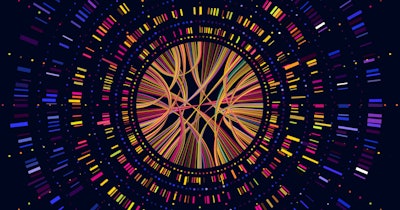 Quantum-Si announced Tuesday the commercial availability of Platinum, its next-generation single-molecule sequencing platform.
The benchtop Platinum platform is 19.5 inches by 8.5 inches, with a price point of $70,000. According to the firm, the system's small footprint and lower price are aimed at providing greater accessibility to high-resolution sequencing data.
Quantum-Si's next-generation sequencing system uses the firm's Time Domain Sequencing technology, which monitors for patterns in fluorescent probe behavior. A single probe can be used for the identification of multiple distinct amino acids, including those containing post-translational modifications.
The company emphasized that the Platinum platform differs from current proteomics technology which uses large, expensive equipment requiring complicated protocols, and for which there is a lack of custom probes that can reliably distinguish between amino acids.
"We learned from the success of next-generation DNA sequencing how to move beyond big machines, expensive facilities, and the need for significant training, and we saw the benefits of placing the power of sequencing into the hands of individual researchers," Dr. Jonathan Rothberg, founder of Quantum-Si, said in a statement.
Quantum-Si is currently taking orders for Platinum and anticipates shipping the systems in the first quarter of 2023.
In addition, Quantum-Si announced Tuesday that it has appointed Grace Johnston as its chief commercial officer. Johnson was most recently the chief commercial officer for Fortis Life Sciences, and previously served in leadership positions at Merck Millipore and Sartorius.