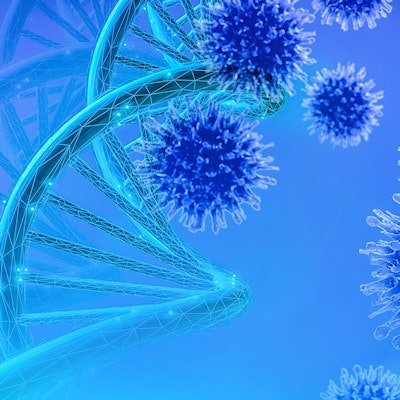 Thermo Fisher Scientific on Tuesday announced it has launched its CE-IVD (IVDD) Oncomine Dx Express Test and Oncomine Reporter Dx software for clinical labs.
Using targeted NGS technology, the Oncomine Dx Express Test delivers clinically relevant tumor mutation profiling in 24 hours to aid healthcare professionals in therapy management of cancer patients in accordance with professional guidelines, Thermo Fisher said.
It tests formalin-fixed paraffin-embedded (FFPE) tissue samples with solid malignant neoplasms.
The qualitative in vitro diagnostic test detects the deletions, insertions, substitutions, and copy number gain present in 42 genes. It also detects fusions or splicing variants in 18 genes from DNA and RNA. Furthermore, the assay detects deletions, insertions, and substitutions in 42 genes and fusions or splicing variants in seven genes from cfTNA extracted from plasma samples of non-small cell lung cancer (NSCLC), Thermo Fisher said.
Meanwhile, the firm's Oncomine Reporter Dx software ensures healthcare providers can quickly assess the genomic test results. The software matches the variant data to relevant evidence including approved therapies, guidelines, clinical trials, and peer-reviewed literature in a user-friendly and customizable report.
Thermo Fisher said it has launched the test to meet the need for rapid genomic insights.
Next-generation sequencing (NGS) is quickly becoming the platform of choice for tumor molecular profiling due to its ability to simultaneously report on multiple biomarkers, the firm noted. However, lengthy turnaround times can limit the clinical utility of these results.
The new NGS assay and genomic reporting software, along with Thermo Fisher's recently launched Ion Torrent Genexus Dx Integrated Sequencer, enables labs to adopt targeted NGS in-house to provide results on all clinically relevant biomarkers with minimal sample input, the firm added.