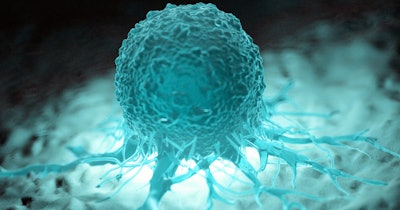 Artificial intelligence and precision medicine company Tempus on Friday announced a collaboration with biopharmaceutical firm Kartos Therapeutics aimed at developing a companion diagnostic (CDx) test to identify patients with TP53 wild-type (TP53WT) Merkel cell carcinoma (MCC) who may be responsive to treatment with navtemadlin, a potent selective MDM2 inhibitor.
The CDx will be developed on Tempus' xT platform.
MCC is a rare, aggressive type of skin cancer with a high mortality rate. It is also associated with high rates of recurrence and metastasis and is difficult to treat. The standard treatment for advanced MCC is immunotherapy using anti-PD-1/L-1 antibodies.
Kartos is collaborating with Tempus to use the xT assay, a 648-gene panel, to identify patients with advanced or metastatic MCC who have retained functional (wild-type) TP53 and who have failed to respond to or are intolerant of anti-PD-1/L-1 immunotherapy, for whom navtemadlin may be a suitable treatment.
Navtemadlin overcomes MDM2 dysregulation by restoring p53 activity and inducing apoptosis of TP53WT tumor cells.