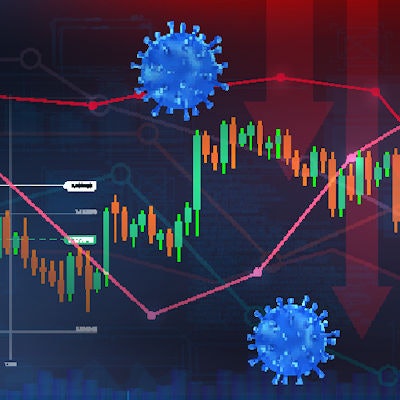 Companion diagnostics -- tests designed to guide a therapeutic choice -- have continued to see usage during the pandemic, while also charting a new role in COVID-19, according to a new report from market research firm Kalorama Information.
Kalorama, which is a sister company of LabPulse.com, found continued revenue growth and only a small impact on the market, due to the critical importance of cancer therapies these tests are paired with, in its new report "Companion Diagnostics in the COVID-19 Era."
Companion diagnostics increase the probability of clinical success by identifying patients with the presence of biomarkers or disease-specific therapeutic targets that can dramatically improve outcomes. Roche's cobas 4800 BRAF V600 Mutation Test, which is used with the BRAF inhibiting drug vemurafenib (Zelboraf, Roche) for treatment of melanoma, and Abbott's RealTime IDH1 assay for use with ivosidenib (Tibsovo, Agios) in acute myeloid leukemia are example of companion tests.
Companion diagnostics can also decrease costs by identifying the patient population that will most likely benefit from the therapy and ruling out expensive therapies when they are not likely to be effective.
Delaying treatment in patients with a good prognosis overall would be detrimental to the outcome in some patients eligible for targeted therapies, primarily cancer therapies. Therefore, oncologists report only minimal delays in treatment which is often determined case-by-case, dependent on factors such as disease status, cancer type, and age. For example, systemic therapy may be delayed for a short period in patients aged 50 or older with nonaggressive tumor types. But delaying treatment in an aggressive tumor could be catastrophic to the patient's outcome.
Kalorama found a significant decline in requisitions at the start of the pandemic, although by April these were resolved, and estimates a 10% decrease in volume overall. There was also some backlog on processing tests due to restructuring of hours and laboratory layout requirements. Furthermore, appointment-only lab draws were in effect beginning around February for some facilities and ongoing through April, which impacted test volume slightly.
In spite of the minor delays, Kalorama found that the global market for in vitro companion tests is valued at $2.26 billion, including diagnostic kits, instruments, and reagents. The market has remained relatively consistent in its growth since 2015 and is expected to experience double-digit compound annual growth through 2024.
Though primarily used for oncology treatments, there have been attempts to apply the companion test concept to COVID-19. Spartan Bioscience developed its CE and U.S. Food and Drug Administration-approved DNA analyzer to detect risk of poor treatment choices for patients taking various antiplatelets, antidepressants, and proton pump inhibitors. People carrying CYP2C19 mutations can have impaired drug metabolism and altered response to drug therapy. But over the first half of 2020, Spartan Bioscience shifted its technology to focus on detecting COVID-19 and Legionella using its quantitative polymerase chain reaction (qPCR) on-site DNA analyzer.
There is also a growing trend for cancer treatment centers and research hospitals to get involved in the COVID-19 recovery plan. The Sidney Kimmel Comprehensive Cancer Center at Johns Hopkins University is gearing up to start a phase II trial to promote recovery from COVID-19 with ivermectin or bicalutamide endocrine therapy. The study is an interventional trial with an estimated enrollment of 60 participants that have had a confirmed PCR test of COVID-19 infection and require inpatient hospitalization due to COVID-19, with minimal or no respiratory symptoms. The study is expected to start in June and complete in June 2021.
Bruce Carlson is the publisher of Kalorama Information, part of Science and Medicine Group.
Disclosure: LabPulse.com is a sister company of Kalorama Information.