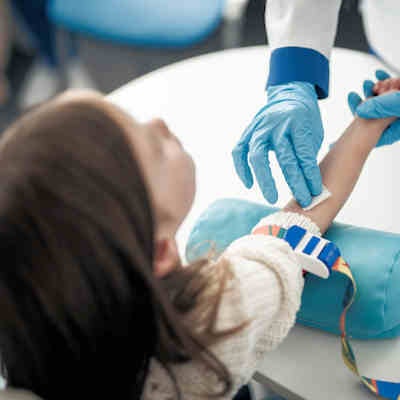 The reference levels used for a variety of lab tests designed to measure the development of children may be inconsistent, and these pediatric reference intervals (PRIs) should be updated to improve pediatric care, according to research published April 25 in JAMA Pediatrics.
Accurate PRIs are critical for clinical decision-making. A child's physical development and growth to adulthood requires appropriate growth and maturation of their body and organ systems; this growth is accompanied by fluctuations in biomarker concentrations at various stages of healthy development. For clinicians to correctly diagnose and treat disease in children, the PRIs used must accurately reflect these biochemical and physiological changes.
In the current paper, researchers assessed the consistency of PRIs for certain analytes related to child development. Investigators with the U.S. Centers for Disease Control and Prevention (CDC) and colleagues elsewhere determined that the PRIs currently used in pediatric care are significantly inconsistent and inappropriate for assessing a child's health or monitoring the child's treatment.
The investigators' review included PRIs from articles indexed in PubMed that were published from January 2015 to April 2021. Analytes commonly measured in the pediatric clinical setting used as examples in the review included the following:
The thyroid axis hormones free thyroxine (FT4) and thyrotropin
The kidney function biomarker cystatin C
Insulin-like growth factor 1 (IGF-1)
Total testosterone and estradiol (E2)
The iron-status indicators hemoglobin and ferritin
For each PRI source, the scientists gathered details on the laboratory methods used, population surveyed, statistical approaches used, covariates, and published reference intervals.
The scientists, led by Hubert W. Vesper, PhD, director of clinical standardization programs at CDC and laboratory scientist with the American Association of Clinical Chemistry (AACC), analyzed the reference intervals for several common and important pediatric tests, assessing them for consistency in the context of the biological changes occurring during child development.
The scientists observed that although many PRIs have been published for some biomarkers, few are used by clinical and commercial laboratories. The patterns, extent, and timing of biomarker changes are highly variable, particularly during developmental stages with rapid physiologic changes.
Many PRIs do not capture these changes and do not accurately reflect the underlying biochemistry of development, resulting in significant inconsistencies between reference intervals, the scientists wrote.
Moreover, PRIs are available from a variety of sources, complicating their use for a specific biomarker. There is no common source of data for deriving PRIs that uses a well-defined population representative of healthy children in the U.S. In fact, some PRIs are based on other countries' populations.
The scientists explained that biomarker concentrations for most PRIs in their study differed across sources, in part because of variably calibrated analytical systems and differences in system performance. But these kinds of differences should not affect the patterns of biomarker changes at different developmental stages, such as a possible surge in thyrotropin in newborns.
Some inconsistencies may be caused by the large variability among age groups used in developing PRIs. The researchers observed inconsistent patterns for biomarker changes across PRIs, partially attributable to the number of age groups used to establish PRIs. The number of age groups is highly variable across PRIs -- for example, ranging between 1 and 12 for hemoglobin and ferritin.
Age groups should reflect developmental stages during which biomarker concentrations are relatively constant, according to the scientists.
One way to overcome the challenges with age grouping is to transition to continuous reference intervals, the researchers suggested.
Biomarkers, such as thyrotropin and FT4 or hemoglobin and ferritin, are often used in combination to diagnose certain diseases. Thus, PRI patterns should be consistent not only for individual biomarkers but also for any corresponding biomarkers.
But the authors wrote that consistent relationships between thyrotropin and FT4, as well as between hemoglobin and ferritin, were not reflected in the PRIs reviewed, including PRIs used in clinical laboratories.
The research findings also revealed that many PRIs do not reflect the underlying biochemistry of development, especially in very young children. When possible, PRI studies should measure all analytes used in a diagnostic workup in the same individual to better define their relationship in healthy children, according to the scientists.
The development of PRIs is often hampered by the lack of sufficiently large study populations representing healthy children. In addition, the lack of assay standardization leads to instrument-specific reference intervals that cannot easily be transferred across laboratories.
Researchers continue to develop new PRIs in addition to the many PRIs already available. However, some increasingly-used biomarkers, such as cystatin C, still lack PRIs derived from appropriate and well-designed study cohorts. Despite the large number of PRIs, it is difficult for laboratories to identify the PRI that best reflects their patient population.
The CDC, the American Association for Clinical Chemistry, and others are partnering to harness data acquired from the National Health and Nutrition Examination Survey to generate continuous PRIs; their aim is to offer these PRIs to laboratories, clinicians, and researchers, as well as to facilitate their adoption by clinical laboratories through assay standardization.
The CDC, in collaboration with clinical partners, has developed reference intervals in adults that can easily be adopted by clinical laboratories and is pursuing similar approaches through this partnership.