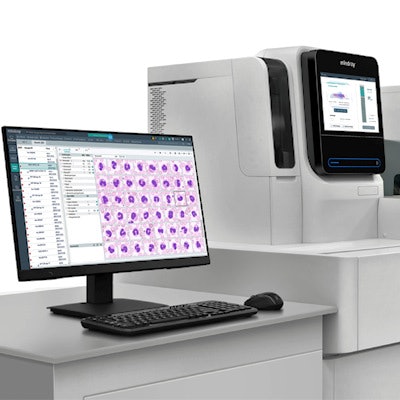 Mindray is launching MC-80, a new digital cell morphology analyzer that's designed to support morphological review of blood cells after hematology analysis, providing clearer images and faster workflow, the company said.
The company notes that most clinical laboratories must re-examine over 30% of their blood samples. Traditional microscopic review of these samples is labor-intensive and time-consuming, however, according to Mindray.
Furthermore, using some automated cell morphology analyzers, it can be challenging to capture cell images that are as clear and accurate as microscopes. MC-80 is designed to fill this gap, providing clear images that capture cellular abnormalities in more detail, according to Mindray.
MC-80 uses algorithms to better identify cells, resulting in a high-throughput workflow of 60 samples an hour. The analyzer employs "smart" processes and requires less manual intervention while algorithms provide cell preclassification and precharacterization. In addition, a high-speed "fly mode" ensures fast and accurate identification of platelet clumps.