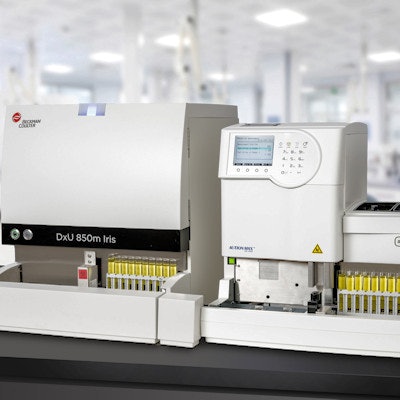 Beckman Coulter aims to improve laboratory workflow for processing urinalysis samples with a new automated diagnostic system, DxU Iris, introduced at this week's American Association for Clinical Chemistry (AACC) 2021 meeting.
DxU Iris is designed to reduce manual sample processing in urinalysis lab workflow by reducing manual reviews to 4%. This can cut sample processing time by up to 78%, according to the company.
In launching the system at AACC 2021, Beckman Coulter noted that urinalysis samples make up 30% of all samples processed by clinical labs. A lab technician is often required to manually inspect the samples, such as confirming the analyzer's findings or identifying unique particle types. This can slow lab workflow.
DxU Iris automates this process, reducing sample subjectivity and variability. As a result, clinical labs can standardize their processes, achieve faster turnaround times for urinalysis samples, and deliver high-quality results, according to the company.
DxU Iris matches the company's DxU 850m Iris or DxU 840m Iris urine microscopy analyzer with its Arkray Aution Max 4030 urine chemistry analyzer. The system uses Beckman Coulter's digital flow morphology technology to isolate, identify, and characterize urine particles on the screen and its auto-particle recognition software to deliver standardized results with artificial intelligence technology.
The system is designed for high-volume clinical labs. It includes an optional load and unload station that boosts capacity to 190 onboard samples. It also includes connectivity with Beckman Coulter's ProService remote service tool, DxOne Command Central remote monitoring service, and Remisol Advance middleware.