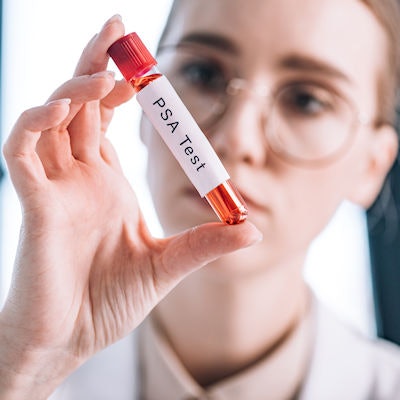 Less prostate-specific antigen (PSA) testing in the wake of guidelines that discouraged use was linked to a drop in diagnosis of early-stage disease and more cases of advanced tumors in a study published May 20 in the Journal of the National Cancer Institute.
The study was conducted by the American Cancer Society (ACS) and involved an analysis of data from the U.S. Cancer Statistics Public Use Research Database between the years 2005 and 2016. Researchers assessed rates of reports of invasive cancer for men older than 50, with analyses by stage of disease, age group, and race and ethnicity.
In men ages 50-74, the rate of local-stage disease decreased by 6.4% per year between 2005 and 2016. For men older than 75, the incidence of local-stage disease dropped by 10.7% per year from 2007-2013 and then stabilized between 2013 and 2016, the ACS reported.
Disease that was regional or distant spread was more commonly reported during the study period across age groups -- "for example, distant-stage incidence in men 75 and older increased by 5.2% per year from 2010-2016," the ACS noted in a statement about the data. The study also showed more of a disease burden for non-Hispanic black men compared with non-Hispanic white men.
The results suggest the effects of changes in guidelines on PSA screening from the U.S. Preventive Services Task Force (USPSTF). Starting in 2008, the USPSTF recommended against PSA screening for men older than 75 years and expanded this approach across age groups in 2012. While it has been known that there were fewer reports of local disease and more cases of advanced disease since these recommendations were made, it was unclear if the trend continued over time, Ahmedin Jemal, PhD, scientific vice president of surveillance and health services research at the ACS, and colleagues noted.
"Regional- and distant-stage prostate cancer incidence continue to increase in the [U.S.] in men aged ≥50 years, and future studies are needed to identify reasons for the rising trends," the authors wrote.
Factors that can increase risk for prostate cancer include family history, which would be unlikely to change during the study period, and cigarette smoking, but this has been on the decline, the authors noted.
"These data illustrate the trade-off between higher screening rates and more early-stage disease diagnoses (possibly overdiagnosis and overtreatment) and lower screening rates and more late-stage (possibly fatal) disease," Jemal and colleagues wrote.
Prostate cancer screening has been on the decline in recent years, based on self-reported survey data. There are ways to reap the benefits of PSA screening while minimizing the risks associated with overdiagnosis, however, for example by focusing screening on younger age groups and setting a higher threshold on referral for biopsy based on PSA results in older men, the authors suggested.
The data provide a picture through 2016, and it's unclear how another change in USPSTF recommendations in 2018 to recommend individualized decisions on screening for men between the ages of 55 and 69 has altered the trajectory.
"However, only 10% of men without PSA testing report any element of shared decision making in recent years," Jemal and colleagues concluded. "Future studies are needed to elucidate reasons for the rising incidence trends for regional- and distant stage diseases and for the disproportionately high burden of the disease in black men."