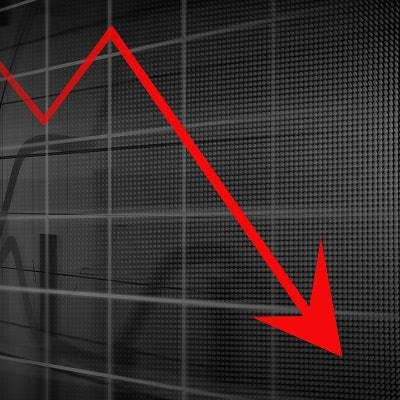 A survey of clinical labs across the U.S. shows a massive reduction in testing volume due to the COVID-19 pandemic, with cancer and histology diagnostics hit particularly hard.
The survey was conducted in the third week of April by LabPulse.com sister company Kalorama Information, a market research firm. Kalorama has been tracking lab closures and is regularly conducting surveys of labs about the impact of the pandemic. A survey of 191 clinical labs was reported in a webinar on April 30.
For the survey, hot spots of the pandemic -- such as New York City and New Orleans -- were excluded to avoid skewing the results toward areas that have borne the greatest brunt of the disease. Facilities were evenly spread in states across the country, with most (86%) based at hospitals and the rest consisting of academic and public health labs that offer clinical testing.
Respondents were mostly female (71%), with 34% in the baby boomer age category and 23% in the Generation X range. Survey results suggested that older respondents -- baby boomer and Generation X -- are most concerned about the impact of the coronavirus, with millennials and other younger age groups less worried in comparison.
The majority of respondents were in a position to make decisions about evaluating new equipment acquisitions, and of the total, 57% reported that they were holding off on lab product purchases, with the expectation that money would be tight in the future and that they needed to focus on saving.
The survey included representation by facilities of varying sizes. Overall, 59% reported a significant impact from the COVID-19 pandemic, and the impact was stronger for those based in larger institutions.
Survey respondents and magnitude of pandemic impact
No. of employees at facility
Representation in survey
Experiencing significant impact on lab operations
1 to 100
18%
40%
101 to 1,000
27%
58%
More than 1,000
40%
67%
Staffing tops list of concerns
The top three concerns for respondents included hiring and maintaining staff, effects on routine testing, and purchasing consumables for lab-related services and products. During the pandemic, diagnostics companies have been reporting a decline in testing volume. Quest Diagnostics, for example, in its first-quarter earnings report, noted that testing volumes were down by 40% in the last two weeks of March. Responses to the survey illustrate a major reduction in testing across therapeutic areas.
"Their greatest concern is their people: staff -- hiring, reducing, and maintaining staff. Almost two-thirds of laboratories are concerned about that," Bruce Carlson, publisher of Kalorama Information, said during the webinar about the results.
Lockdown and shelter-in-place policies have resulted in the cancellation of a wide variety of scheduled procedures and put an end to many face-to-face physician visits, which along with supply shortages have created a "witches brew" for laboratory business. Even in a survey taken in the later half of April, there were still concerns about getting swabs, extraction kits, and reagents for testing, hindering lab operations, Carlson said.
Two categories of testing have seen a small increase -- polymerase chain reaction (PCR) molecular assays (+7.7%) and procalcitonin (PCT) tests (+1.7%). But the rest have declined, with cancer testing (-22%) and histology (-32.8%) the worst affected.
The increase in PCR assays is not surprising given that this is the technology used to diagnose COVID-19 and rule out flu, and PCT is useful in critically ill patients to show if there is sepsis and also the severity of COVID-19, Carlson explained.
Standard tumor marker testing and immunoassays, the latter of which are part of routine doctor visits, are both significantly down. Theoretically, immunoassay volume may increase with the introduction of antibody tests for the coronavirus, though there are questions about accuracy, sensitivity, specificity, and predictive value that could impede application to the U.S. workforce. Supply issues may also hinder uptake of immunoassay testing for the novel coronavirus.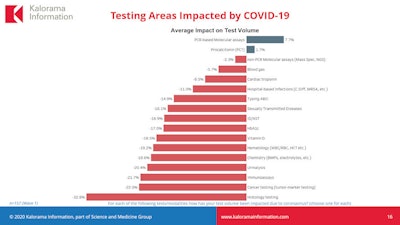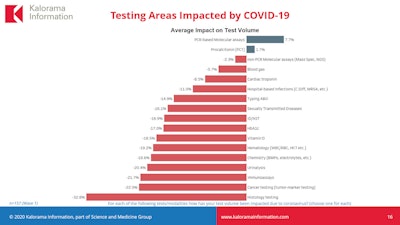 Ramping up testing as states reopen
U.S. states are in varying stages of reopening, and the survey results suggest that labs are expecting it will take two to four months to ramp back up. The ramp-up of diagnostics is tied to the return of elective procedures and will be unevenly applied across the country, Craig Overpeck, CEO of Kalorama parent company Science and Medicine Group, said during the webinar.
The silver lining is that larger facilities, which have been more disrupted by the coronavirus and which process a larger number of tests, will be able to get to a new normal faster than smaller facilities -- usually within a couple months, assuming demand returns, Overpeck said.
Larger states like California were the first to lock down and reopening would have a big impact on the country overall. Roche has indicated that diagnostics sales will start to pick up in the third and fourth quarters, which is a good indicator for the lab testing market generally.
"It will come as a very slow-moving wave across the horizon that we can see coming, but it will take time," Overpeck said.
Kalorama is offering a range of free resources related to COVID-19 and the impact on lab testing, including a database with locations of tests and supplies at hospitals.
Disclosure: Kalorama Information and LabPulse.com are sister companies; both are part of Science and Medicine Group.