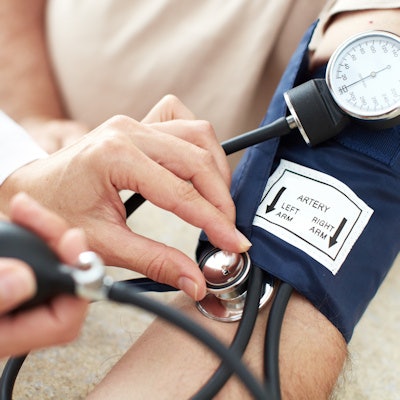 High-sensitivity cardiac troponin T (hs-cTnT) and pro b-type natriuretic peptide (NT-proBNP) tests could add value for risk assessment and managing people with high blood pressure, according to a pooled study analysis presented at the American Heart Association (AHA) annual meeting, held November 16-18 in Philadelphia.
Both measures are biomarkers of cardiac injury and stress, but they are not well-established for risk assessment and guiding pharmaceutical therapy in patients with high blood pressure. The results, however, suggest a potential role, noted University of Texas Southwestern Medical Center internist Dr. Ambarish Pandey and colleagues in a study abstract.
In a pooled analysis of three different studies, the researchers evaluated cardiovascular outcomes for people with hs-cTnT of at least 6 ng/L and NT-proBNP of at least 100 pg/mL. The subjects had high blood pressure but had not been prescribed antihypertensive medication because they did not meet the treatment criteria of the AHA and the American College of Cardiology.
Those who had normal biomarker results had a 4.6% rate of cardiovascular events over 10 years, which was similar to the rate in patients with normal blood pressure (3.8%). But the event rate was more than double, at 11%, in those with abnormal biomarker results, the researchers found.