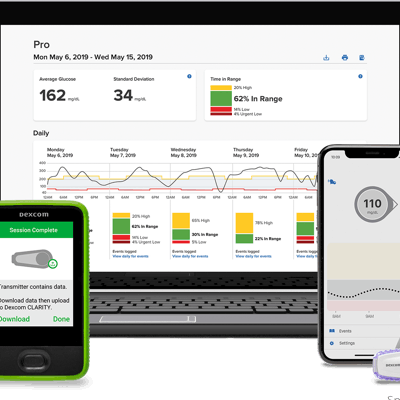 Dexcom has obtained U.S. Food and Drug Administration (FDA) clearance for its new G6 Pro continuous glucose monitoring (CGM) product for clinics. It plans to begin shipping G6 Pro at the start of 2020.
The single-use product provides real-time monitoring of glucose data for patients and a retrospective analysis of glucose levels over a 10-day period. G6 Pro includes a disposable sensor, with no finger-stick blood tests needed for calibration or treatment decisions, according to the company. It is intended for monitoring blood sugar and adjusting therapy for patients who have not used their own systems before, and it complements the company's G6 personal CGM product.
Dexcom announced the FDA clearance on October 8, following a June 28 decision date by the agency.
G6 Pro can be set so that real-time information on glucose levels is given to providers only and the retrospective analysis is shared during a consultation. There is also an option, however, to share real-time information with patients through a smartphone app. A patient can be set up with the product in minutes, according to Dexcom.