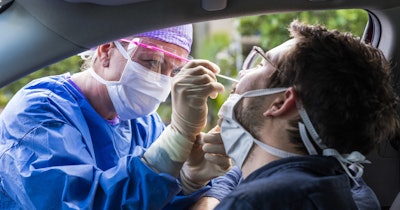 Cue Health is implementing a plan to lower costs that involves reducing its employee base by 388, or 26% of the firm's global workforce.
The plan, described in a document filed last Thursday with the U.S. Securities and Exchange Commission, follows a review of the business, its operating expenses, and the macroeconomic environment.
Cue shares closed the day on the Nasdaq Friday at $1.94, down more than 13% from a high of $2.25 last Wednesday.
Shares of the San Diego-based molecular diagnostic test developer had risen to $13.41 at the beginning of December 2021.
The firm developed one of the first molecular tests authorized for home use during the COVID-19 pandemic by the U.S. Food and Drug Administration (FDA). It subsequently launched a digital test-to-treat system, and counts healthcare institutions, technology companies, sports leagues, and consumers as part of its customer base.
Last month, Cue announced that the Minnesota Department of Health had selected it to provide a statewide COVID-19 telehealth-to-treatment program at no cost to Minnesota residents.
"During the pandemic, Cue grew very quickly ... from roughly 100 employees in 2020 to over 1,500 employees," Ayub Khattak, the company's co-founder, chairman, and CEO, said in a letter to employees last week. "[However], in today's difficult economic environment and with concerns regarding COVID shifting to additional respiratory viruses and other health challenges, demand for COVID testing has come down from [the] peak days of the pandemic."
The company expects to record an aggregate restructuring charge related to one-time termination benefits of about $6 million to $8 million. Most of the charges will result in cash expenditures in connection with the cost reduction plan, including payments for salary, benefits, and unused paid time off for the affected employees from January 6 through their termination dates. The firm said it expects payments relating to the cost reduction plan to be completed by the end of the second quarter.
"As shown by the heavy burden the tripledemic ([respiratory syncytial virus], flu, and COVID) has had on our healthcare system, we believe there is massive demand for the products we are building," Khattak said in the letter, part of the document filed with the SEC. "We now have a number of submissions in review with the FDA for the expanded respiratory menu, including for our Flu + COVID multiplex test, standalone submissions for full clearance for both flu and COVID, and recently we submitted our RSV test for pre-[Emergency Use Authorization] review. Additionally, our clinical studies for strep throat have started. On the sexual health side chlamydia and gonorrhea clinical studies have begun, and we expect our Mpox test (monkeypox) to be submitted for EUA to the FDA shortly."
Last September, Cue Health announced it had applied for de novo clearance to the FDA for its Cue Flu Molecular Test. Clearance would permit the test to be used at home and elsewhere at the point-of-care when FDA emergency use authorizations end. In August, the company announced a partnership with Fresenius Kidney Care to provide immunocompromised patients and their clinical care teams with COVID-19 self-tests. Fresenius is using the Cue Health Monitoring System and the Cue COVID-19 test in two states and three territories -- Hawaii, Alaska, Puerto Rico, Guam, and Saipan -- to screen employees and provide early testing for vulnerable patients. Earlier last year, Cue said it had tapped healthcare technology company Cardinal Health to expand the distribution of its COVID-19 tests.
Cue was the second molecular diagnostic firm to announce layoffs within a week. On Friday, Biocept said it is evaluating strategic alternatives and implementing a restructuring plan that includes reducing staff by approximately 35%.