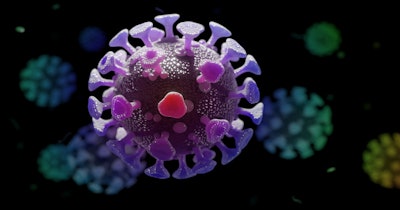 Roche and its subsidiary TIB Molbiol on Thursday announced that they have developed a COVID-19 polymerase chain reaction (PCR) test that detects and differentiates the latest variant of concern, XBB.1.5.
The variant is prevalent in the U.S. and is quickly spreading to other countries. Being able to differentiate such emerging variants and understand their similarities and mutations allows experts to make predictions about their spread and respond with appropriate treatment strategies. Results from the test will help closely track the virus' lineage and provide insights into the epidemiology and impact it has on public health, according to Roche.
XBB.1.5 is a subvariant of a SARS-CoV-2 variant named XBB. That lineage is a recombinant of two descendants of the BA.2 lineage that began spiking in early 2022. BA.2 is also a subvariant of Omicron. XBB's spike protein is a group of mutations that boost the variant's ability to evade antibodies. All Roche on-market COVID-19 tests are not impacted by this subvariant.
The new test, VirSNiP SARS-CoV-2 Spike F486P, is run on the Roche LightCycler 480 II and Cobas z 480.
"Roche continues to develop timely diagnostic innovations related to COVID-19 by providing valuable insights -- helping scientists and physicians understand this new strain, how it differs from other variants, and the impact it may have on public health," Matt Sause, CEO of Roche Diagnostics, said in a statement.
The research-use-only test adds to the suite of COVID-19 test kits developed by Roche and TIB Molbiol and specifically targets the unique mutation F486P found within the XBB.1.5 Omicron subvariant.
Typical clinical samples are throat and nasopharyngeal swabs, sputum, saliva, or gargle solution.