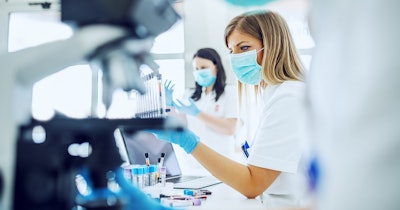 Qiagen on Tuesday announced the CE-IVD marking and launch of its EZ2 Connect MDx platform for use in diagnostic laboratories.
The automated sample processing platform is being made available for widescale use 18 months after being made available for research.
According to Qiagen, it placed more than 5,000 EZ platforms worldwide through the end of 2022.
EZ2 Connect MDx puts standardized, efficient nucleic acid purification in reach of clinical laboratories; combined with the QIAsphere digital system, it allows for remote instrument management, the firm said.
The EZ2 Connect MDx uses a high level of automation to enable labs to purify DNA and RNA from 24 samples in parallel in 30 minutes, Qiagen added.
The platform now carries CE-IVD compliance marking for in-vitro devices for the European Union and other countries that accept this designation. The platform is also available in the United States, Canada, and other countries.
"EZ2 Connect MDx puts standardized and efficient nucleic acid purification in reach of any clinical lab," Jean-Pascal Viola, senior vice president and head of the molecular diagnostics business at Qiagen, said in a statement. "It solves the challenges of many clinical diagnostics labs that have to provide diagnostics results quickly, that have to deal with fluctuating sample numbers as well as a large variety of sample types and quality."
EZ2 Connect MDx can extract nucleic acids from blood plasma, serum, stool, and other sample types using magnetic-bead technology. High process safety is ensured with prefilled and sealed reagent cartridges, as well as load checking through integrated cameras, Qiagen said.
Other features include ultraviolet (UV) decontamination, onboard pipetting, heating, and automated piercing of the sealed cartridge. The resulting analyte is compatible with a variety of downstream technologies such as real-time polymerase chain reaction (PCR), digital PCR, and next-generation sequencing (NGS).
According to Qiagen, EZ2 Connect MDx complements its other automated IVD nucleic extraction platforms, which include QIAcube Connect MDx and QIAsymphony.