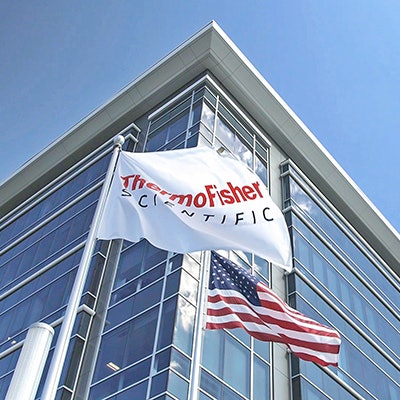 Thermo Fisher Scientific is highlighting a variety of new products the company is launching at this week's American Association for Clinical Chemistry (AACC) meeting, including new test kits for COVID-19 and for lupus.
For COVID-19, there are two polymerase chain reaction (PCR) tests: the Applied Biosystems TaqPath COVID-19 Fast PCR Combo Kit 2.0 and the Applied Biosystems TaqPath COVID-19 RNase P Combo Kit 2.0. The tests target eight genes across three regions of SARS-CoV-2.
What's more, Thermo Fisher announced that its existing Applied Biosystems TaqMan SARS-CoV-2 Mutation Panel can now detect the Mu variant of the SARS-CoV-2 virus. The company has also launched the Thermo Scientific AcroMetrix SARS-CoV-2 Control, which is targeted at monitoring extraction, amplification, and detection steps for SARS-CoV-2 assays.
Apart from COVID-19 testing, Thermo Fisher is launching the EliA SmDP-S test to aid in the diagnosis of systemic lupus erythematosus (SLE). The test recently received U.S. Food and Drug Administration (FDA) clearance.
In the substance abuse screening field, the company launched DRI Fentanyl II, an assay for fentanyl detection that has FDA clearance, and the firm partnered with Mindray to offer two new analyzers, Mindray BS480 and Mindray BA800M. The latter analyzers can run up to 800 tests per hour.
In other news, Thermo Fisher said it was donating equipment for the COVID-19 Immunity Study sponsored by the AACC. The donation will enable onsite serology testing that will analyze immune responses to SARS-CoV-2 among participants who have received the vaccine.