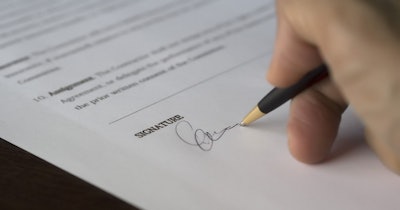 Quest Diagnostics on Thursday reported first-quarter revenues of $2.33 billion, down 11% from $2.61 billion in Q1 2022 and beating analysts' average estimate of $2.20 billion.
For the three months ended March 31, the diagnostics services provider's base business revenues, which excluded COVID-19 testing sales, were $2.21 billion, up 10% compared to $2.01 billion in the prior-year quarter. COVID-19 testing revenues were $119 million, down 80% compared to $599 million in Q1 2022.
Q1 net income was $202 million, or $1.78 per share, compared to $355 million, or $2.92 per share, in Q1 2022. Adjusted earnings per share (EPS) was $2.04, beating analysts' average estimate of $1.97.
"In the first quarter, we delivered double-digit year-over-year revenue growth in our base business, driven by strong performance across our physician and hospital customers," Jim Davis, chairman, CEO, and president of Quest, said in a statement.
The firm announced the acquisition of Haystack Oncology, which supports its "molecular genomics and oncology strategy in the fast growing category of minimal residual disease [also known as MRD] testing," Davis said.
In a separate announcement on Thursday, Quest said it is acquiring Haystack in an all-cash equity transaction. Quest added that it plans to combine Haystack's MRD cancer-detection technology with its oncology, genomics, and pathology expertise and scale, including solid tumor sequencing, convenient specimen collection, and electronic health record (EHR) connectivity.
Following the close of the acquisition, Quest expects to adapt the MRD test developed at Haystack as the basis for new clinical lab services available beginning in 2024. Development efforts will focus initially on MRD tests for colorectal, breast, and lung cancers, it said.
MRD testing, Quest noted, is a fast-growing category of liquid biopsy tests that identify circulating tumor DNA (ctDNA) in the bloodstream of patients following surgery and treatment for cancer.
Founded in 2021, Haystack has developed a ctDNA-based technology specifically for MRD detection based on 20 years of research and development by Johns Hopkins University
Quest added that in a prospective, multi-institution study published in the New England Journal of Medicine in June 2022, an earlier version of the Haystack technology demonstrated the ability to better identify patients with residual disease for adjuvant chemotherapy after surgery for stage II colon cancer. The technology enabled a reduction in chemotherapy use in the overall patient population without compromising recurrence-free survival.
Under the terms of the acquisition agreement, Quest will pay $300 million in cash at closing, net of cash acquired, and up to an additional $150 million on achieving future performance milestones. The company expects the acquisition to be modestly dilutive to earnings over the next three years and accretive by 2026. The transaction is expected to be completed in the second quarter, subject to customary regulatory review.
J.P. Morgan Securities acted as exclusive financial advisor to Quest, and Weil, Gotshal & Manges acted as Quest's legal advisor. Goldman Sachs & Co. acted as exclusive financial advisor to Haystack, and Goodwin Proctor acted as Haystack's legal advisor.
2023 outlook
Quest updated its estimates for full-year 2023, saying that it expects revenues of $8.93 billion to $9.08 billion compared to its previously announced expectations for revenues of $8.83 billion to $9.03 billion. In 2023, the firm expects to book $8.78 billion to $8.88 billion for its base business, which excludes COVID testing. It anticipates $150 million to $200 million in COVID-19 testing revenues. The company said previously it was expecting COVID-19 testing revenues of $175 million to $275 million for the full year.
For 2023, the firm now expects to report EPS of $7.52 to $8.02 compared to its previously announced expectation for EPS of $7.61 to $8.21. The firm said that it anticipates adjusted EPS of $8.45 to $8.95 for 2023.
"Our updated guidance reflects continued strong performance in our base business, offset by faster than expected declines in COVID-19 revenues and modest dilution from our planned acquisition of Haystack," Davis said.
At the end of Q1, the company had cash and cash equivalents of $175 million.
Quest Diagnostics shares were down more than 3% in early Thursday morning trading on the New York Stock Exchange.