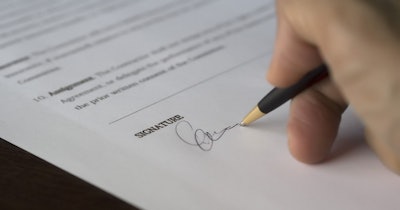 Liquid biopsy diagnostics firm DiaCarta and HH&L Acquisition on Friday announced a business combination agreement that is expected to result in DiaCarta becoming a publicly listed company on the New York Stock Exchange (NYSE).
The transaction is expected to close in the first quarter of 2023.
The equity valuation of DiaCarta under the proposed combination is $460 million; the deal would provide the firm with approximately $414 million cash in proceeds from HH&L's initial public offering and potential additional financing.
Additionally, the consideration to be paid to DiaCarta equityholders in connection with the deal is 46 million shares of common stock of HH&L, which is a publicly traded special purpose acquisition company (SPAC).
DiaCarta is a Pleasanton, CA-based translational genomics and molecular diagnostics firm. Its products and testing services include its early detection ColoScape Colorectal Cancer blood test, RadTox cfDNA test, QuantiVirus SARS-CoV-2 test, QClamp qPCR test, and OptiSeq XNA-NGS panels.
DiaCarta said that its liquid biopsy diagnostic testing technologies are underpinned by its XNA and SuperbDNA technology platforms.
XNA technology provides a high level of sensitivity as it clamps the wild-type sequence and amplifies the mutant target sequence, the firm said. SuperbDNA technology provides a high level of sensitivity in detecting target DNA or RNA and requires no RNA/DNA extraction or amplification, the firm added.
Cohen & Company Capital Markets (CCM) is an exclusive financial advisor and capital markets advisor to HH&L. Revere Securities is the financial advisor to DiaCarta; White & Case is the legal advisor to HH&L; Loeb & Loeb is the legal advisor to DiaCarta; Morgan, Lewis & Bockius is the legal counsel to CCM.
The combined company will be based in Pleasanton and led by Aiguo Zhang, founder and CEO of DiaCarta, and other key members of its management team.