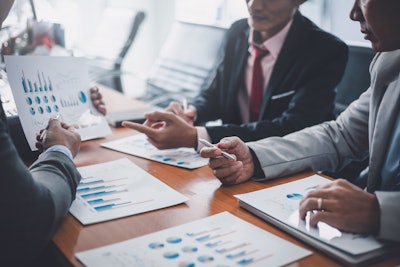 Investor reactions were mixed on Monday after a news article reported that Bio-Rad Laboratories is in talks to combine with Qiagen.
At the end of trading on the New York Stock Exchange, Bio-Rad shares were down more than 8% to $392.95, while Qiagen shares on the Nasdaq had risen more than 3% to $43.86.
Earlier in the day, citing "people familiar with the matter," the Wall Street Journal reported that the firms are in discussions to combine in a deal that would be worth more than $10 billion.
At deadline, Bio-Rad and Qiagen had not responded to a request for comment on the report.
At a time when diagnostic companies are adjusting to lower demand for testing, revenues from each company's COVID-19 products fell year over year in the second quarter that ended on June 30.
Hercules, CA-based Bio-Rad manufactures and distributes life science research and clinical diagnostic products in the U.S., Europe, Asia, Canada, and Latin America. The company operates through Life Science and Clinical Diagnostics segments.
Bio-Rad's second quarter sales were $691.1 million, a decrease of 3.5% compared to the second quarter of 2021. COVID-related revenue was approximately $33 million in the second quarter of 2022 versus approximately $69 million reported in the year-ago period. Excluding COVID-related sales, revenue increased 5.7% on a currency-neutral basis.
Net loss for the second quarter of 2022 was $927.2 million, or a loss of $31.12 per share, on a diluted basis, compared to $914.1 million of net income, or $30.32 per share, on a diluted basis during the same period in 2021. Net income and loss amounts for the second quarter of 2022 and 2021 were primarily impacted by the recognition of changes in the fair market value of equity securities related to the holdings of the company's investment in Sartorius, a process technology supplier to the biotech, pharma, chemical, and food and beverage industries.
Hilden, Germany-based Qiagen is a provider of sample-to-insight molecular tests and solutions. Its sample technologies isolate and process DNA, RNA, and proteins from blood, tissue, and other materials, while its assay technologies make these biomolecules visible and ready for analysis, according to the firm.
For the second quarter, Qiagen posted net sales of $516 million, a decline of 9% from Q2 2021. At constant exchange rates (CER), sales were driven by 10% growth in its non-COVID-19 product portfolio to $423 million, but sales of COVID-19 products fell 39% CER to $92 million. Meanwhile, Qiagen reported Q2 net income of $97 million, or $.42 per share, compared to $121 million, or $.52 per share, in the prior year quarter. Its Q2 adjusted diluted EPS was $0.51 per share.
A combination of Bio-Rad and Qiagen would represent a high-profile deal in an industry that has witnessed a series of notable acquisitions in the recent past.
In one of the latest deals involving diagnostic industry behemoths, Quidel acquired Ortho Clinical Diagnostics to form QuidelOrtho in May. It followed the acquisition of GenMark Diagnostics by Roche, Luminex by DiaSorin, and three molecular diagnostics firms by Hologic.
Last year, Illumina announced it had completed its acquisition of cancer diagnostics developer Grail almost a year after announcing the deal. The acquisition has survived despite challenges. In September, for example, an administrative law judge dismissed antitrust charges in a complaint brought by the Federal Trade Commission (FTC) against Illumina and Grail.
The complaint filed by the FTC in March 2021 alleged that Illumina's $7.1 billion proposed acquisition of Grail would diminish innovation in the U.S. market for multicancer early detection tests.
However, the European Commission maintains it is blocking the acquisition, saying in a recent statement that the merger would stifle innovation and reduce options in the blood-based early cancer detection test market.
On March 3, 2020, Thermo Fisher Scientific had announced an offer to purchase Qiagen, but that deal fell through when it was rejected by Qiagen shareholders.