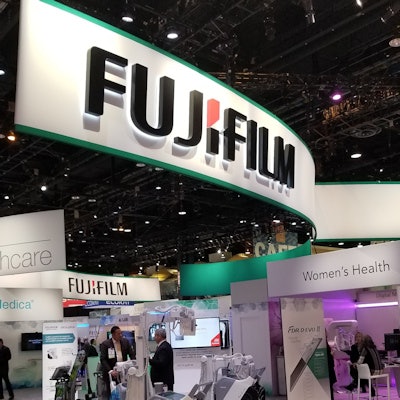 Fresh from its acquisition of Hitachi's imaging business, Japanese industrial conglomerate Fujifilm Holdings plans to make additional investments in healthcare over the next three years. The company's $11 billion strategic plan calls for healthcare to become its largest business segment.
Fujifilm on April 15 launched its new Vision2023 strategic plan that guides the spending of $11 billion over the next three years. The plan is designed to accelerate growth in the healthcare sector, as well as in the company's highly functional materials business segment, which produces films for liquid crystal displays (LCDs).
Vision2023 calls for the healthcare business to be expanded to become Fujifilm's largest segment in terms of both revenue and operating income, according to a press statement. The plan includes multiple priorities, including entering new markets for future growth and pursuing mergers and acquisitions.
The $11 billion in spending will include investments in research and development (R&D) and capital investments in "new" and "priority" businesses, Fujifilm said. The company expects the investments to produce $24.8 billion in revenue and $2.4 billion in operating income in 2023, the plan's final year.
The plan envisions the company's legacy businesses of office solutions, consumer and professional imaging, and graphic communications as a "cash cow" that can be used to fund midterm priority areas like medical systems, which includes medical imaging equipment, endoscopes, and in vitro diagnostics.
Further in the future, Fujifilm sees potential in artificial intelligence (AI) and information technology areas of healthcare, as well as hard endoscopes and surgical tools. It also sees potential in drug discovery and gene therapeutics, in addition to nonmedical areas such as electronic materials and highly functional materials.
Within medical systems, Fujifilm intends to leverage the computed tomography (CT) and magnetic resonance imaging (MRI) technology it acquired with the Hitachi Medical acquisition and combine these assets with the company's existing strengths in image processing and AI to provide even greater value-added services.
The company has set a 2023 target for healthcare of $7.9 billion in revenue and $947 million in operating income, with a 12% operating margin.