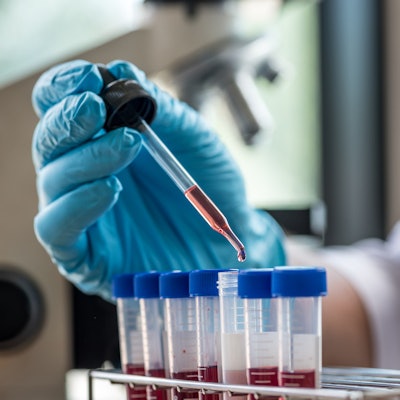 An investigational blood test paired with positron emission tomography/computed tomography (PET/CT) imaging showed potential for increasing the yield of cancer screening in a large study presented on April 28 at the American Association for Cancer Research (AACR) meeting and published the same day in the journal Science.
The multianalyte blood test -- CancerSEEK -- incorporates DNA and protein biomarkers. It was developed at Johns Hopkins University and licensed to the Cambridge, MA-based startup Thrive Earlier Detection.
Investigators reported the results of an earlier version of the test in a prospective, interventional, exploratory study called Detecting Cancers Earlier Through Elective Mutation-based Blood Collection and Testing (DETECT-A). The study evaluated the test in combination with full-body, diagnostic PET/CT in screening approximately 10,000 older women with no history of cancer who were undergoing standard-of-care (SOC) cancer screening.
For the DETECT-A study, a blood test was taken at baseline and repeated if positive. An expert review panel determined if PET/CT was needed for follow-up.
"Thrive's blood test more than doubled the number of cancers that were first 'screen-detected.' 25% of the women who were diagnosed with cancer were identified by current standard-of-care tests," the company noted in a statement. "By incorporating Thrive's blood test, the percentage of 'screen-detected' cancers increased from 25% to 52%."
A wide variety of cancer types were detected and 65% were diagnosed when they were localized and therefore more amenable to treatment. Safety was good, though risks and benefits in the screening population need to be further evaluated in other studies, the researchers reported.
"These data demonstrate that multicancer blood testing combined with PET/CT can be safely incorporated into routine clinical care, in some cases leading to surgery with intent to cure," Nickolas Papadopoulos, PhD, a professor of oncology at Johns Hopkins University, and colleagues wrote in Science. "Further studies will be required to determine the clinical validity and utility of [multicancer] blood testing."
Building on SOC
Multicancer blood tests are seeking to fill some vital roles in cancer diagnosis. They have promise for serving as a noninvasive method where effective screening options are available, for example mammography for breast cancer, and for creating a new earlier detection option in tumor types lacking an accepted screening strategy, such as in ovarian and pancreatic cancers.
Papadopoulos et al noted the importance of ensuring that multicancer blood tests do not lead to the abandonment of conventional SOC screening methods, false positives and unnecessary follow-up procedures, and the diagnosis of cancers unlikely to progress to the point where they would cause problems.
"Because current SOC approaches have proven to be effective, a new [multicancer] test should not supplant or discourage individuals from undergoing SOC cancer screening," the authors wrote. "Optimally, such a test should be employed in a complementary way to increase cancer detection rates when applied to a population adherent to SOC screening."
For the DETECT-A study, investigators recruited women between the ages of 65 and 75. The trial only enrolled women to enrich for ovarian cancer, as there is a high unmet need for an effective early detection method for this tumor type. Blood testing was followed up with full-body, diagnostic PET/CT.
Combo has high specificity
Of 9,911 women evaluated, 490 (4.9%) initially had a positive blood test and 134 (1.35%) had a positive second blood test. Most who were positive on the confirmatory test went on to get imaging. Imaging results suggested cancer in 64 patients and 26 had cancer on tissue biopsy.
The sensitivity of the blood test across cancer types was 27.1% alone and 52.1% in combination with SOC screening tools, which Thrive said demonstrates its added benefit over current practice. Furthermore, since the DETECT-A study was designed, there have been advances in liquid biopsy testing that increase sensitivity while maintaining specificity, the authors noted.
During the three-step process -- two blood tests followed by PET/CT -- specificity increased while sensitivity decreased as expected, the authors noted. The combination of blood testing and PET/CT had specificity of 99.6%.
Performance of multicancer blood testing with PET/CT
Metric
Initial blood test
Confirmatory blood test
Blood test plus diagnostic PET/CT
Positive predictive value
5.9%
19.4%
28.3%
Specificity
95.3%
98.9%
99.6%
Negative predictive value
99.3%
99.3%
99.1%
Number needed to screen to detect one cancer
342
381
661
Sensitivity, all cancer types
30.2%
27.1%
15.6%
Sensitivity, cancer types with SOC screening available
27.5%
23.5%
15.7%
Cancer types with no recommended SOC screening available
33.3%
31.1%
15.6%
Papadopoulos and colleagues noted that important questions remain and should be addressed in registration trials aimed at regulatory approval, including clinical validity, an assessment of risk versus benefit, and cost-effectiveness.
Thrive's backers include Third Rock Ventures, Casdin Capital, and BlueCross Blue Shield Ventures, among other investors. The test has breakthrough device designation with the U.S. Food and Drug Administration (FDA) for detecting mutations associated with pancreatic and ovarian cancers. The company said it is in the process of finalizing the protocol for a registrational study to support a filing.
Liquid biopsy's main selling point has been convenience of sample collection and larger potential scale compared with traditional invasive tests, but there have been doubts about its clinical utility and limited data, commented Bruce Carlson, publisher of Kalorama Information, a sister company of LabPulse.com. A large study such as the one just published by Thrive supports the effectiveness of liquid biopsy in addition to the convenience, he suggested.
The finding of nearly 100% specificity for blood testing with PET/CT indicates that the combination of two noninvasive technologies is a powerful testing tool, Carlson added.