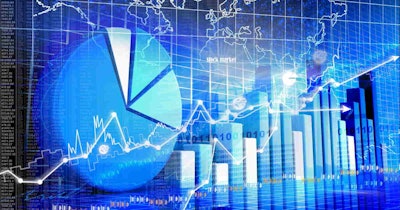 Roche and Thermo Fisher Scientific separately reported first-quarter revenues on Wednesday with each suffering year-over-year declines, partly due to the fall in diagnostic testing demand.
For the quarter ended March 31, Roche posted sales of 15.32 billion Swiss francs (CHF) ($17.18 billion). That represented a 7% year-over-year drop from CHF 16.45 billion, as sales for its overall business, consisting of Diagnostics and Pharmaceuticals Divisions, continued to be impacted by the decline in demand for COVID-19 tests.
Meanwhile, Thermo Fisher Scientific, which also saw a year-over-year decline in COVID-19 test demand, said its overall revenue for the first quarter dropped 9% to $10.71 billion compared to $11.82 billion in Q1 2022. Nonetheless, Q1 revenues exceeded Wall Street analysts' average estimate of $10.67 billion.
Roche's first-quarter Pharmaceuticals Division sales were CHF 11.70 billion, up 5% from CHF 11.16 billion in Q1 2022, but it experienced headwinds in the Diagnostics Division. Q1 Diagnostics Division sales were CHF 3.62 billion, a decline of 31% from CHF 5.29 billion in Q1 2022.
Within the Diagnostics Division, Core Lab sales were up 2% to CHF 1.93 billion from CHF 1.90 billion in the prior-year quarter. Molecular Lab sales dropped 50% to CHF 593 million from CHF 1.19 billion in Q1 2022; Point of Care sales were down 73% to CHF 397 million from CHF 1.47 billion; Diabetes Care sales were down 10% to CHF 376 million from CHF 417 million; and Pathology Lab sales rose 3% to CHF 329 million from CHF 318 million.
Roche noted that the Diagnostics Division's base business sales grew 4% year-over-year, but COVID-19 test sales -- not included in the base business sales calculation -- dropped to CHF 300 million in the first quarter from CHF 1.9 billion in the same period last year, when demand was exceptionally high. COVID-19 test sales in the Europe, Middle East, and Africa (EMEA) and North America regions decreased by 30% and 39%, respectively, while Asia-Pacific fell by 15% and Latin America fell by 8%.
In Roche's Diagnostics Division, immunodiagnostic products were important growth drivers, up 9% year-over-year, and driven by cardiac test sales. Virology base business sales grew more than 12% year-over-year, while blood screening sales grew more than 15%, and diagnostics solutions for the detection and monitoring of cervical cancer grew more than 22%.
Roche confirmed its outlook for full-year 2023, saying it expects a decrease in overall company sales in the low single-digit range at constant exchange rates. Sales of COVID-19 products are expected to decline roughly CHF 5 billion during the year. Excluding the COVID-19 sales decline, Roche anticipates solid sales growth in both divisions' base business.
Thermo Fisher results
For the quarter ended April 1, Thermo Fisher's Life Sciences Solutions revenues were $2.61 billion, a decline of 38% compared to $4.23 billion in the prior-year quarter ended April 2. Analytical instruments revenues were $1.72 billion, up 13% compared to $1.52 billion. Specialty Diagnostics revenues were $1.11 billion, a decline of 25% compared to $1.48 billion. Laboratory Products and Biopharma Services revenues were $5.76 billion, up 6% compared to $5.44 billion.
COVID-19 testing revenue was $140 million for the recently completed quarter, down 14% compared to Q1 2022.
Among the highlights of the first quarter, Thermo Fisher said it launched its iCAP RQ Plus ICP-MS Analyzer to simplify analysis of trace elements, including identification of heavy metals in water and soil as well as toxic elements in food and beverages.
It launched the Applied Biosystems QuantStudio Absolute Q AutoRun dPCR, an automated digital polymerase chain reaction (PCR) solution to increase productivity for molecular research, including cell and gene therapy and cancer research.
The firm introduced its Invitrogen DynaGreen microplastic-free magnetic beads for protein purification and to reduce the environmental impact of life science research.
Thermo Fisher said that in the first quarter it also advanced a strategic partnership with the University of California, San Francisco (UCSF), with the opening of a new cell therapy cGMP manufacturing and collaboration center to accelerate development of therapies.
The company repurchased $3 billion of stock, increased its dividend by 17%, and completed the acquisition of The Binding Site, a diagnostics company.
Thermo Fisher reported Q1 net income of $1.29 billion, or $3.32 per share, compared to $2.22 billion, or $5.61 per share in the prior-year quarter. Adjusted earnings per share in the first quarter were $5.03, matching analysts' average estimate.
At the end of Q1, the firm had cash and cash equivalents of $3.48 billion.