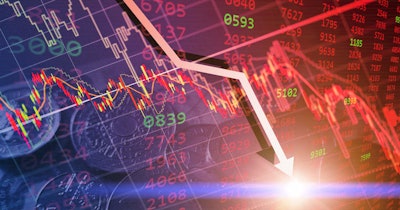 London-based point-of-care diagnostics firm LumiraDx on Tuesday reported fourth-quarter revenues of $41.1 million, a drop of 65% from $118.3 million in Q4 2021 and lower than analysts' average estimate of $41.8 million.
For the quarter ended December 31, COVID-19 antigen test revenues were $24.7 million and Fast Labs COVID-19 testing revenues were $8.0 million. Q4 non-COVID revenues were $8 million or 20% of total revenues, including $3 million from tests running on the LumiraDx point-of-care testing platform.
The company's Fast Labs products are high-throughput, and fast molecular diagnostic tests that run on open reverse-transcription polymerase chain reaction (RT-PCR) instruments.
LumiraDx noted that its Q4 revenues were slightly less than revenues for Q3 when it booked $42.2 million. The company said it has significantly increased its installed base of instruments, primarily in Europe, driven by new testing product sales in diabetes, inflammation, heart failure, and respiratory disease. Additionally, in the U.S., it is working with the Independent Test Assessment Program (ITAP) established by the National Institutes of Health (NIH) with the aim of achieving accelerated U.S. Food and Drug Administration (FDA) review for a COVID & Flu combination test.
LumiraDx recorded an accounting impairment of $96 million in Q4 for excess manufacturing and inventory related to the scale-up during peak COVID-19 testing demand and the decision to pause commercialization of its Amira COVID-19 test. Last June, the company announced that it had acquired the CE Mark for the Amira System, a new testing system that provides low-cost, highly sensitive COVID-19 testing.
Net loss for the quarter was $102.2 million, or a loss of $.32 per share, compared to a loss of $37.2 million, or a loss of $.15 per share, in Q4 2021.
LumiraDx reported 2022 revenues of $254.5 million, down 66% compared to $421.4 million in 2021 and lower than analysts' average estimate of $257.9 million
Net loss for the year was $449.2 million, or $1.59 per share, compared to a loss of $100.8 million, or a loss of $.62 per share, in 2021. Adjusted net loss for the year was $212.2 million, or a loss of $.75 per share, and beat analysts' average estimate for a loss of $1.32 per share.
"Our focus on commercializing new products in Europe and other international markets, progressing our pipeline in the United States, accelerating the development of our high value assays, and strengthening our financial position is paying off," Ron Zwanziger, chairman and CEO of LumiraDx, said in a statement.
The company's cash balance was $100 million at the end of Q4.