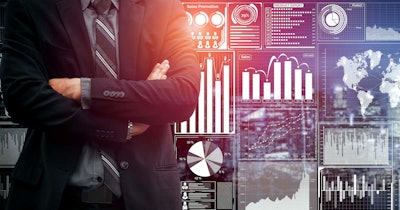 Cue Health this week joined numerous firms that have seen a year-over-year decline in fourth-quarter revenue because of a drop in COVID-19 test demand.
It reported Q4 revenue of $146.8 million, a decline of 24% year-over-year from $192.5 million in Q4 2021.
Although the company's revenues so far have come predominantly from a COVID-19 point-of-care (POC) testing product, it is "executing well" on its strategy of expanding its test menu, the firm's CEO Ayub Khattak said on a conference call to discuss the financial results.
"[We are] also increasing the scope of our integrated care platform to have greater actionability on diagnostic test results, and menu expansion of the types of tests and treatments that can be delivered quickly and conveniently through Cue," Khattak said. "In 2022, our test menu expansion growth drivers centered on diagnostic tests for our Cue Health monitoring system, which consists of our Cue reader, test cartridges, and sample collection wands. Our near-term focus and development milestones were from programs in both the respiratory and sexual health categories."
The company on Monday announced that it has launched a suite of diagnostic test kits providing access to testing in the home for numerous indications. Reflecting pressure from the decline in COVID-19 testing, in January, the company said it is implementing a plan to lower costs that involves reducing its employee base by 388, or 26% of its global workforce.
Among the highlights for 2022, Cue Health said it achieved all test menu expansion milestones, including a COVID-19 de novo submission for clearance with the U.S. Food and Drug Administration (FDA) in the second quarter of 2022; a flu A/B de novo submission in the third quarter of 2022; a Flu A/B + COVID multiplex submission for emergency use authorization (EUA) in the third quarter of 2022; and an Mpox, formerly known as monkeypox, submission for EUA for point-of-care use in the first quarter of 2023.
Additionally, the firm expects to complete RSV molecular test clinical studies in the first quarter of this year. Chlamydia plus gonorrhea test molecular clinical studies began in the fourth quarter of 2022 as did clinical studies for a molecular test to detect strep throat.
The firm continues to "make significant progress" with the development of a respiratory health test, Khattak said on the conference call. "We are pleased with the level of engagement and dialogue between Cue and the FDA, and we continue to anticipate that we will be able to bring to market a comprehensive respiratory health offering by the year end."
For the three months ended December 31, the firm posted a net loss of $31.5 million, or a loss of $.21 per share, compared to net income of $34.2 million, or $.23 per share, in the prior-year quarter.
Full-year 2022 revenue was $483.5 million, down 22% from $618.1 million in 2021. Additionally, Cue Health posted a 2022 net loss of $194.1 million, or a loss of $1.31 per share, compared to net income of $86.4 million, or $.63 per share, in 2021.
The company had cash and cash equivalents of $241.5 million at the end of the quarter. A $100 million secured revolving credit facility remains undrawn, and the company said it continues to operate with no debt obligations.