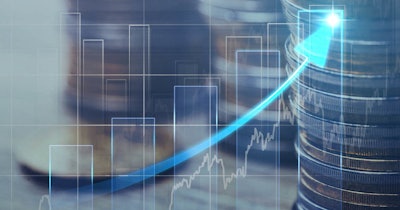 Myriad Genetics after the close of the market on Tuesday reported fourth-quarter revenue of $177.8 million, up 11% year-over-year from $160.8 million in Q4 2021.
Shares of the genetic testing firm rose more than 14% to $21.71 in Wednesday afternoon trading on the Nasdaq.
Revenue for the quarter ended December 31 was driven by 16% growth in hereditary cancer testing volumes and 23% growth in volumes for the GeneSight pharmacogenomics test.
Overall, year on year, Q4 testing volumes grew 26% and 11% excluding contributions from the recent acquisition of Gateway Genomics and its SneakPeek Early Gender DNA test.
The firm's hereditary cancer test, MyRisk, achieved double-digit year-over-year growth in the quarter, president and CEO Paul Diaz said in a statement.
For Q4, the firm's net loss widened to $42.3 million, or a loss per share of $.52, compared with a loss of $7.6 million, or a loss per share of $.10, in the prior-year quarter. Its fourth-quarter adjusted loss per share was $.12.
For full-year 2023, Myriad Genetics anticipates revenues between $720 million and $750 million, reflecting annual growth of 6% to 11% over 2022; a loss per share of $1.23 to $1.43; and an adjusted loss per share of $.20 to $.40.
For Q1 2023, the firm anticipates revenues of $170 million to $172 million; a loss per share of $.45 to $.47; and an adjusted loss per share of $.18 to $.20.
At the end of Q4, the company had cash and cash equivalents of $56.9 million.