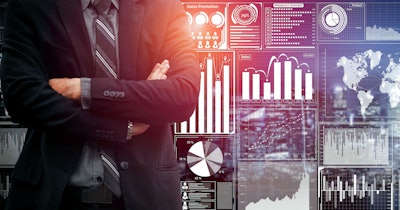 Agilent Technologies on Tuesday reported revenue of $1.76 billion for the first quarter ended January 31, an increase of 5% compared to $1.67 billion for the first quarter of 2022. The firm beat average analysts' expectations of $1.7 billion.
The Santa Clara, CA-based firm's revenue increased 10% year-over-year on a core basis, which excluded the impact of currency and acquisitions and divestitures within the past 12 months.
Agilent's Life Sciences and Applied Markets Group (LSAG) reported first-quarter revenue of $1.03 billion, up 6% from $976 million in the prior-year quarter. The Agilent CrossLab Group (ACG) reported first-quarter revenue of $381 million, an increase of 6% from $359 million in Q1 2022. The Diagnostics and Genomics Group (DGG) reported first-quarter revenue of $342 million, up 1% from $339 million in Q1 2022.
First-quarter net income was $352 million, or $1.19 per share, compared with $283 million, or $.93 per share, in the first quarter of fiscal year 2022. Adjusted earnings per share was $1.37 per share, beating analysts' average estimate of $1.30.
The firm raised its full-year 2023 revenue outlook and now expects $7.03 billion to $7.10 billion, representing reported growth of 2.7% to 3.7% and core growth of 5.5% to 6.5%. Fiscal year 2023 adjusted EPS guidance has also been raised and is now estimated to be $5.65 to $5.70.
Revenue for the second-quarter revenue is expected to be in a range of $1.655 billion to $1.680 billion. Second-quarter adjusted EPS is expected to be $1.24 to $1.27.
At the end of the quarter, the firm had cash and cash equivalents of $1.25 billion.