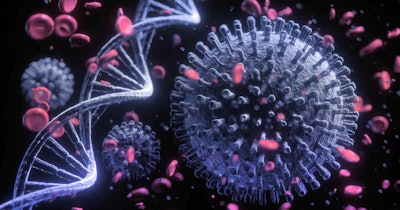 Labcorp on Thursday reported fourth-quarter revenue of $3.67 billion, down 10% from $4.06 billion in Q4 2021 and less than analysts' average estimate of $3.74 billion.
For the quarter ended December 31, the company posted $2.29 billion in Diagnostics business revenues, down 13% year-over-year. Within Diagnostics, the firm saw a 14% decrease in organic revenue, mainly due to a reduction in COVID-19 testing that was partly offset by an increase in the Base Business. Year-over-year Base Business growth in the fourth quarter was 11%.
Labcorp's Drug Development revenue for the quarter was $1.39 billion, a decrease of 4% from $1.45 billion in Q4 2021.
"We finished the year strong, with accelerated revenue growth in Diagnostics, continued strong underlying fundamentals in Drug Development and margin expansion," Adam Schechter, chairman and CEO of Labcorp, said in a statement. "In 2022, we also advanced our strategy with the announcement of the spin [off] of our Clinical Development business, which will be named Fortrea, and acceleration of several hospital partnerships and acquisitions."
The firm posted Q4 net earnings of $76.4 million, or $.86 per share, compared with $553.6 million, or $5.80 per share, in Q4 2021. Its Q4 adjusted earning per share was $4.14, beating analysts' average estimate of $3.37.
For full-year 2022, Labcorp booked $14.88 billion, down 8% from $16.12 billion in 2021, and missed analysts' average estimate of $14.94 billion.
The firm posted 2022 net earnings of $1.28 billion, or $13.97 per share, compared with $2.38 billion, or $24.39 per share, in 2021. Its 2022 adjusted earnings per share for the year was $19.94, beating analysts' average estimate of $16.30.
For full-year 2023, the firm expects an adjusted EPS of $16.00 to $18.00 and year-over-year revenue growth of 1% to 4%. It booked $1.1 billion in revenue for COVID-19 testing in 2022, but it expects such revenue to drop by 75% to 90% in 2023.
Labcorp shares rose more than 3% to $256.09 in Thursday trading on the New York Stock Exchange.