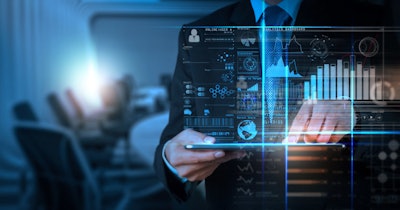 Quest Diagnostics on Thursday reported fourth-quarter revenues of $2.33 billion, down 15.0% from $2.74 billion in Q4 2021 but beating analysts' average estimate of $2.26 billion.
For the quarter ended December 31, Quest booked COVID-19 testing revenues of $184 million, down 75% from $722 million in Q4 2021. Base business revenues of $2.15 billion rose 6% from $2.02 billion in Q4 2021.
"COVID-19 testing revenues declined as expected but still exceeded $1.4 billion in 2022," Jim Davis, Quest Diagnostics CEO and president, said in a statement. "In 2023, our focus is on growing our base business and increasing our efforts to drive productivity and expand margins. Our guidance for the full year reflects continued growth in the base business, tailwinds from recent Medicare reimbursement changes, investments to accelerate growth, and declining COVID-19 revenues."
Full-year 2023 earnings per share (EPS) is expected to be between $7.61 and $8.21, and adjusted EPS is expected to be between $8.40 and $9.00. Full-year 2023 revenues are expected to be $8.83 billion to $9.03 billion, consisting of base business revenues of $8.65 billion to $8.75 billion and COVID-19 testing revenues of $175 million to $275 million, a year-over-year decrease of 88% to 81%.
Quest booked Q4 net income of $101 million, or $.87 per share, compared to $390 million, or $3.12 per share, in the prior-year quarter. Its adjusted EPS was $1.98, surpassing analysts' average estimate of $1.91.
Full-year 2022 revenues of $9.88 billion were down 8% year-over-year with COVID-19 testing revenues of $1.45 billion dropping 48% from last year. Full-year base business revenues were $8.43 billion, up 5% from $8.02 billion in 2021.
Quest shares were up less than 1% to $148.78 in Thursday morning trading on the New York Stock Exchange.