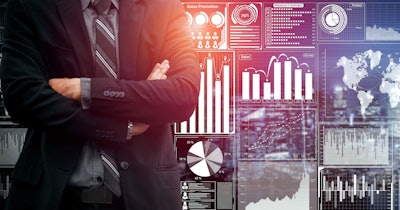 Meridian Bioscience on Tuesday reported fiscal fourth-quarter revenues of $65.7 million, down 14% from $76.2 million in the prior-year quarter, missing analysts' average estimate of $67.4 million.
For the quarter ended September 30, Diagnostic segment revenues increased 14% year-over-year to $39.2 million, while Life Science revenues decreased 37% year-over-year to $26.5 million.
Diagnostics revenue growth was driven by nonmolecular assay products, which increased 22%. Among the contributors to the nonmolecular assay year-over-year increase were organic growth in its BreathID product line, the addition of the BreathTek product line that was acquired in July 2021, and the increase in sales of LeadCare products that were not shipping for a portion of the fourth quarter of fiscal 2021 due to a product recall, the firm said.
The Life Science segment decline was driven by lower overall demand, primarily from reductions in COVID-19 testing, although more significantly for molecular reagents, which saw a 53% year-over-year decrease, than immunological reagents, which saw an 8% year-over-year decrease.
The company noted that during the recently completed quarter it applied for 510(k) clearance for the Curian Shiga Toxin assay.
Among its highlights for the full fiscal year, the company established a life science recombinant protein R&D facility in New Jersey with assets acquired from Euprotin. Its Diagnostics business launched two products: Curian Campy and Revogene SARS-CoV-2 EUA. The Life Science business launched 17 molecular products, completing a full line of sample-specific master mixes for qPCR and LAMP, with sensitivity suitable for oncology applications.
In July, the firm inked an agreement to be acquired by a Korean consortium for $34 per share, a transaction expected to close before the end of this year.
Meridian Bioscience posted Q4 net income of $5.7 million, or $.13 per share, compared to net income of $6.7 million, or $.15 per share, in the prior-year quarter, and missed analysts' average estimate of $.15 per share.
The Cincinnati-based firm posted fiscal-year 2022 revenues of $330 million, an increase of 5% year over year, and fiscal-year 2022 net income of $42.5 million, or $.96 per share, compared to net income of $71.4 million, or $1.65 per share, in fiscal year 2021.
At the end of the recently-completed quarter, the company had cash and equivalents of $81.5 million.
"Our strong balance sheet and operating fundamentals position the company well as we navigate the current macroeconomic uncertainty and establish a new baseline for the Life Science segment in the endemic phase of the COVID-19 pandemic," Andy Kitzmiller, the firm's chief financial officer, said in a statement.
Shares of Meridian Bioscience were down less than 1% to $31.95 in early Tuesday trading on the Nasdaq.