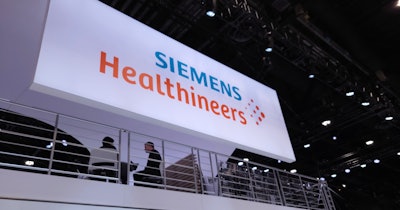 Siemens Healthineers on Wednesday said its fiscal fourth-quarter diagnostics revenues rose 13% year over year, while its revenues including all segments rose 16%.
For the quarter ended September 30, the Erlangen, Germany-based firm's adjusted Diagnostics revenues were 1.44 billion euro (€) ($1.44 billion) compared to €1.28 billion in Q4 2021. On a comparable basis with the prior-year quarter, its Diagnostics revenues rose 6%, Siemens Healthineers said.
In the recently completed quarter, Siemens Healthineers booked €232 million from COVID-19 rapid antigen tests compared to around €160 million in Q4 2021. Excluding the antigen tests, Q4 Diagnostics segment revenues dropped almost 1% on a comparable basis, the firm said.
Diagnostics recorded high double-digit growth in the Asia-Australia region in the fourth quarter, helped particularly by revenue from rapid COVID-19 antigen tests in Japan. In China, test volumes for routine care recovered after the easing of COVID-19 restrictions, Siemens Healthineers said.
On a comparable basis, Diagnostics revenue in the Americas region remained on the prior-year level. A double-digit decline in Diagnostics revenue in the Europe, Middle East, and Africa (EMEA) region was attributed to lower contributions from COVID-19 rapid antigen tests.
The firm's overall Q4 revenues -- which also included sales for its Imaging, Varian, and Advanced Therapies segments -- were €6 billion compared to €5.16 billion in Q4 2021. On a comparable basis with the prior-year quarter, overall revenues rose 7%.
On a year-on-year basis for Q4, Imaging revenues of €3.23 billion rose 17%; Varian revenues of €820 million rose 16%; and Advanced Therapies revenues of €578 million rose 16%.
Siemens Healthineers reported net income for the fourth quarter of €636 million, or €.56 per share, compared to €466 million, or €.41 per share, in the prior-year quarter. Its adjusted earnings per share for Q4 were €.65.
Full-year results and outlook
For full fiscal year 2022, the company reported overall revenues of €21.71 billion, an increase of 21% from almost €18 billion in fiscal year 2021. Its full-year diagnostics revenues were €6.07 billion, up 12% from €5.42 billion in 2021.
For fiscal year 2023, the company anticipates overall comparable year-over-year revenue growth of minus 1% to 1%. Excluding revenue from COVID-19 rapid antigen tests, this corresponds to comparable revenue growth of between 6% and 8%, the company noted.
Siemens Healthineers expects adjusted basic earnings per share to be between €2 and €2.20.
The company said its outlook is based on several assumptions, including the expectation that current and potential future measures to keep the COVID-19 pandemic under control will not negatively impact demand for its products and services. The firm said that it expects the war in Ukraine will have no material adverse effect on its business activities.