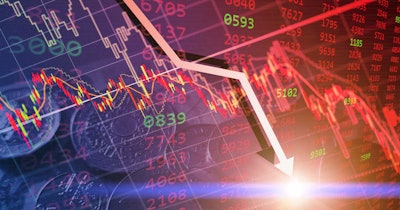 Labcorp on Thursday said it booked revenues of $3.61 billion in the third quarter, a decrease of 11% from $4.06 billion in Q3 2021 and short of analysts' average estimate of $3.79 billion.
The decrease was driven by an almost 12% year-over-year decrease in COVID-19 PCR and antibody testing, which was partly offset by a 1.1% increase in Labcorp's organic base business which does not include COVID-19 testing.
For the quarter ended September 30, Diagnostics segment revenue was $2.21 billion, down almost 16% from $2.62 billion in the third quarter of 2021. Drug development segment revenue was $1.41 billion, down 3% from $1.46 billion in the third quarter of 2021.
Net earnings for the quarter were $352.8 million, or $3.90 per share, compared to $587.3 million, or $6.05 per share, in the third quarter of 2021. Adjusted earnings per share (EPS) were $4.68, beating analysts' average estimate of $4.67.
At the end of the quarter, the company's cash balance and total debt were $400 million and $5.3 billion, respectively. During the quarter, Labcorp invested $458.7 million on acquisitions, paid $64.9 million in dividends, and repurchased $400 million of stock representing approximately 1.5 million shares.
Labcorp updated its guidance for full-year 2022 and now expects a drop in revenue growth of between 2% and 6% from $16.1 billion booked for 2021. That compares to its previous guidance of a drop between 6% and 7.5%. COVID-19 testing is expected to decline between 50% and 60% from $2.8 billion in 2021. The firm expects adjusted EPS of $19.00 to $21.25 for the year.
Labcorp shares were down more than 7% to $213.13 in Thursday morning trading on the New York Stock Exchange (NYSE).