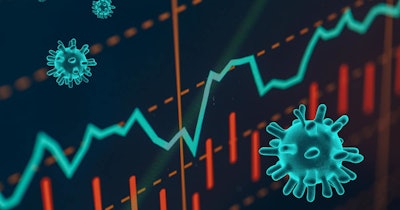 BioMérieux said Wednesday that its third quarter revenues increased 3% to 902.0 million euros ($909.9 million) from 877.4 million euros in Q3 2021.
For the quarter ended September 30, the Marcy l'Étoile, France-based company said its industrial applications sales rose 15% year-over-year to 139 million euros from 120.8 million euros. Industrial applications growth was driven by reagents sales for food and healthcare applications and equipment sales for food applications.
The company's clinical applications sales, which account for about 84% of the total, increased 1% to 763 million euros from 756.6 million euros in Q3 2021.
Within its clinical applications segment, molecular biology sales of 333.5 million euros were down 1% year-over-year; microbiology sales of 311.8 million euros increased 16% year-over-year; immunoassays sales of 101.4 million euros dropped 16% year-over-year; and other product sales of 16.4 million euros were down 42% year-over-year.
BioMérieux added that in the third quarter, it saw higher than expected demand for its BioFire molecular diagnostic respiratory panels, including for COVID-19 testing.
The company announced it has obtained the CE Mark for its Vidas Covigra assay that aims to help clinicians with the assessment of the SARS-CoV-2 specific T-cell response in the adult population; specifically, the test is used to assess adults with a history of SARS-CoV-2 infection and/or those that have been vaccinated against the virus.