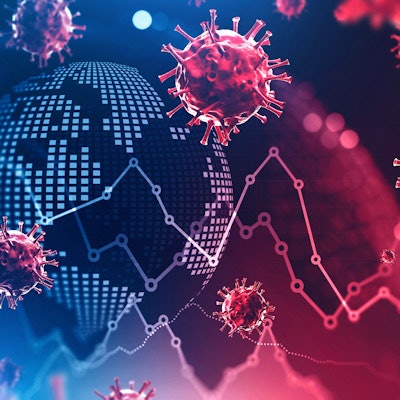 In its first reporting period following the combination of Quidel with Ortho Clinical Diagnostics, QuidelOrtho reported a surge in year-over-year second quarter revenue growth after the close of the market on Thursday.
For the quarter ended July 3, the San Diego-based firm reported revenues of $613.4 million compared to $176.6 million in Q2 2021.
It further reported supplemental, combined revenues of $898.5 million (as if Quidel and Ortho had been combined for the applicable periods), an increase of 34% from $669.1 million in Q2 2021.
Last December, Quidel announced the purchase of Ortho for $6 billion and it completed the acquisition in May.
On Thursday, QuidelOrtho reported a Q2 net income of $19.3 million, or $.36 per share, compared to $19.1 million, or $.45 per share, in Q2 2021. Adjusted diluted earnings per share for the second quarter increased to $2.12, compared to $0.95 for the second quarter of 2021.
For Q2, the company saw strength in all business units when it excluded COVID-19 revenue, including double-digit growth in Point-of-Care and Molecular Diagnostics and high-single-digit combined growth in Labs and Transfusion Medicine.
Specifically, QuidelOrtho posted supplemental, combined revenues as follows: Labs revenues of $342 million compared to $340.5 million in Q2 2021; Transfusion Medicine revenues of $168.8 million, up 4% year-over-year from $162.4 million; Point-of-Care revenues of $367 million, up 179% year-over-year from $137.7 million; Molecular Diagnostics revenues of $20.7 million, down 40% year-over-year from $34.5 million.
Through the process of business integration, "we are finding that the two organizations balance each other quite well," QuidelOrtho's Chairman and CEO Douglas Bryant said in a conference call to discuss the results. "Quidel has proven to be agile and innovative, allowing it to take advantage of market opportunities to grow rapidly. Ortho, on the other hand, with its long history in the diagnostics market has established a global infrastructure and processes that enable its stable 93% recurring revenue."
In addition, he said, the firm is making "significant investment in R&D to advance Savanna, our new molecular multiplexing platform," while supporting continued expansion of its test menus.
Quidel's Sofia uses lateral-flow technology and fluorescence chemistry to run assays on two small benchtop analyzers that can be used near patients and in laboratory settings.
"Since the pandemic began, we grew the Sofia installed base by approximately 90% to 80,000 instruments," Bryant said, adding that the firm is seeing high demand for its flu A, flu B, and COVID-19 combo test, and is developing a high-sensitivity cardiac troponin test for the point-of-care testing market.
"Due to the pandemic, that [troponin test] clinical validation has taken longer than originally planned," Bryant said. "Our 18 clinical sites are continuing to enroll subjects with the expectation of meeting the [U.S. Food and Drug Administration] performance criteria later next year. We expect the 510-K submission will follow shortly after the completion of the clinical validation, and we'll utilize the combined cardiac expertise of both Quidel and Ortho."
Announcing supplemental, combined full-year 2022 guidance, QuidelOrtho CFO Joseph Busky said on the conference call that the company anticipates revenues, excluding COVID-related sales, to grow 6% to 9% on a constant currency basis to between $2.49 billion and $2.57 billion.
For 2022, the company expects 2022 COVID-19 related revenue to be $1.29 billion to $1.34 billion, including $1.15 billion in the first half of the year, compared to $1.3 billion in full-year 2021.
Total revenue is expected to grow from 3% to 6% on a constant currency basis to $3.78 to $3.91 billion, and adjusted diluted EPS is expected to be $11.80 to $12.75.
Looking ahead, "the point-of-care market is showing signs of strength which we expect to continue to translate into strong non-COVID recurring revenue pull-through on our large installed base of Sofia instruments," Busky said. "We expect our labs and transfusion medicine businesses excluding COVID related sales ... to grow mid-single digits."
The firm anticipates 2022 flu-related testing revenues to be $200 million to $260 million, including $121 million in the first half of the year.
Busky said the firm believes that when the pandemic "gets into an endemic stage, as we move into next year" its COVID-related revenues will be in that $150 million to $200 million range annually.
At the end of the quarter, QuidelOrtho had cash and cash equivalents of $379 million.
In Friday morning trading on the Nasdaq, QuidelOrtho shares were down more than 6% at $90.99.