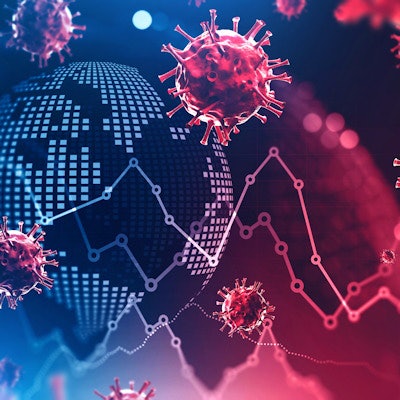 Quest Diagnostics on Thursday reported second quarter revenues of $2.45 billion, down 4% from $2.55 billion in the prior year quarter, but surpassing Wall Street analysts' average estimate for Q2 revenues of $2.34 billion.
The firm said that for the quarter ended June 30, its base diagnostics business revenues rose 3% year-over-year to $2.1 billion from $2.04 billion. However, Quest's Q2 COVID-19 testing revenues dropped 31% year over year to $355 million from $511 million.
"In the second quarter, our base business revenues grew year over year while we increased our share of COVID-19 molecular testing, thanks largely to our expanded retail relationships," Jim Davis, Quest Diagnostics CEO-elect, said in a statement. "Our base business performed well despite softer utilization trends, which we believe impacted us and the rest of the healthcare industry. We also continued to ramp our investments to accelerate growth in the base business, particularly in the areas of advanced diagnostics and direct-to-consumer testing."
Quest reported a Q2 net income of $234 million, or $1.96 per share, compared to $631 million, or $4.96 per share, in Q2 2021. On an adjusted basis, its EPS was $2.36, beating analysts' average estimate of $2.30.
For full-year 2022, the company expects revenues of $9.5 billion to $9.75 billion and adjusted EPS of $9.55 to $9.95; it expects full-year COVID-19 testing revenues of $1.15 billion to $1.3 billion.
"We appreciate the bipartisan efforts of the members of Congress who introduced the Saving Access to Laboratory Services Act (SALSA)," Quest chairman, CEO, and president Steve Rusckowski said in a statement. "If enacted, SALSA would fix [the Protecting Access to Medicare Act (PAMA)] and put the Medicare Clinical Laboratory Fee Schedule back on a sustainable path."
In midday trading on the New York Stock Exchange, Quest shares were down more than 2% to $131.