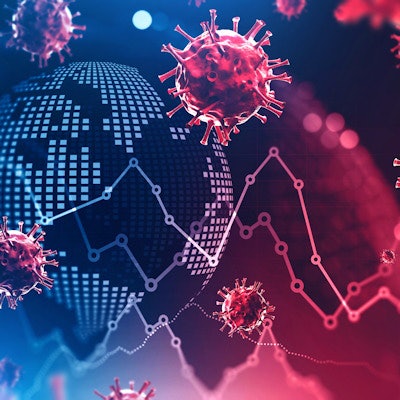 Abbott on Wednesday announced second quarter sales of $11.3 billion, an increase of almost 11% compared to $10.2 million in the prior year quarter.
For the three months ended June 30, the Abbott Park, Illinois-based company said its Q2 diagnostics revenues were $4.3 billion, a year-over-year increase of 33%.
The year-over-year increase in diagnostics revenues was offset by a drop in its global COVID-19 testing-related sales compared to the first quarter. Global COVID-19 testing-related sales were $2.3 billion in the second quarter compared to $3.3 billion in the first quarter.
Within diagnostics, Abbott reported Q2 core laboratory revenues of $1.2 billion, down 7%, and molecular diagnostics revenues of $212 million, down 27% compared to the prior year quarter. Point-of-care testing product revenues were $139 million, up 1% year over year. Q2 rapid diagnostics revenues surged to $2.8 billion, up 82% compared to the prior year quarter.
On a call to discuss the firm's financial results, Abbott Chairman and CEO Robert Ford said that more than 95% of its COVID-19 sales came from rapid tests, including its antigen BinaxNow in the U.S., Panbio internationally, and molecular ID Now globally.
"As we had predicted some time ago, rapid testing has become widely accepted and has proven to be a very important tool in combating the virus due to its affordability and accessibility, including at-home testing," Ford said on the call. "And while vaccines have been shown to play an important role in reducing severity of outcomes, with the emergence of new variants that escape immunity, rapid tests have become the best tool we have to help people quickly and easily identify new cases and quarantine to help slow and prevent transmission."
Abbott posted net earnings of $2 million, or $1.14 per share, compared to $2.1 million, or $0.66 per share, in the prior year quarter. The firm reported diluted earnings per share of $1.43, beating Wall Street analysts' average expectation of $1.12.
The firm raised its full-year 2022 EPS guidance and now expects full-year diluted EPS on a GAAP basis of at least $3.50, up from its previously announced guidance of at least $3.35, and projected adjusted diluted EPS of at least $4.90, up from its previously announced guidance of at least $4.70.
2022 guidance includes projected COVID-19 testing-related sales of $6.1 billion, which includes sales of $5.6 billion through June 2022 and projected sales of $500 million over the next few months. In Q1, the firm had projected COVID-19 testing-related sales of approximately $4.5 billion, which it then expected to largely occur in the first half of the year.
"As you know, forecasting COVID testing demand beyond the near term has been challenging," Ford said. "As such, our forecast for the next few months contemplates a modest approaching endemic-like amount of testing sales. We are in regular discussions with governments around the world, including the U.S., for surveillance testing needs and to ensure capacity is available and ready if we see another surge this winter. If that were to happen, we have a lot of manufacturing capacity in the U.S. and internationally to help meet testing needs."
In Wednesday afternoon trading on the New York Stock Exchange, Abbott shares were down more than 1% at $107.93.