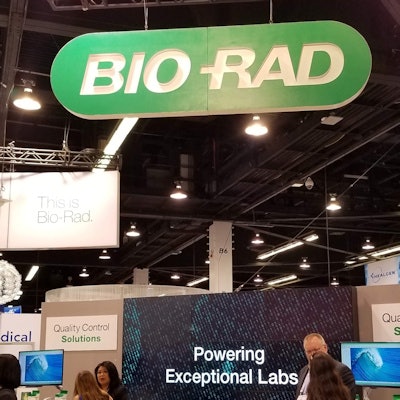 Bio-Rad Laboratories announced a jump in sales for its fourth quarter (end-December 31, 2020) and full fiscal year due to increased demand for COVID-19 assays.
For the fourth quarter, Bio-Rad posted net sales of $789 million, an increase of 26.5% compared with sales of $624 million in the same period the year before. The company's net income for the most recent period was $839 million, compared with income of $554 million in the fourth quarter of fiscal 2019.
For the full fiscal year, the company's revenue was $2.546 billion, up 10.1% compared to $2.312 billion. The company's net income for the year amounted to $3.806 billion, compared with $1.759 billion in 2019.
By segment, Life Science net sales for the fourth quarter were $429 million, an increase of 77.1% compared with the same period in 2019. Clinical Diagnostics sales, on the other hand, decreased 5.1% in the fourth quarter compared with 2019 numbers, amounting to $360 million.
In other Bio-Rad news, the U.S. Food and Drug Administration (FDA) granted the firm an emergency use authorization (EUA) for a COVID, influenza A, and influenza B reverse-transcription polymerase chain reaction (RT-PCR) syndromic multiplex test. The test runs on Bio-Rad's CFX quantitative (q)PCR platforms as well as on qPCR systems from other providers.