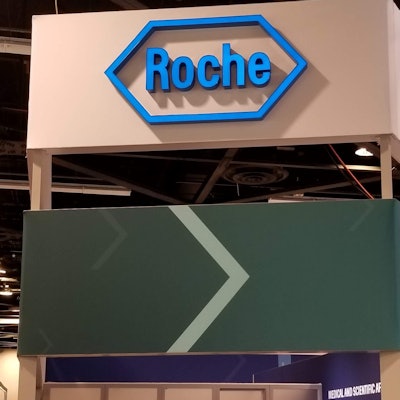 Roche saw an increase in group sales and net income in 2019, and the company also noted that it has been supporting health authorities in China that are dealing with the coronavirus outbreak.
Group sales rose 9% to 61.5 billion Swiss francs ($63.8 billion U.S.), compared with 56.8 billion Swiss francs ($59.0 billion) in 2018, according to the company.
Net income rose 32% to 14.1 billion Swiss francs ($14.6 billion), compared with 10.9 billion Swiss francs ($11.3 billion) a year ago. The income spike was due to strong underlying operating results and the base effect of high goodwill impairments in 2018, Roche reported.
Sales in Roche's Diagnostics division grew by 3% to 12.9 billion Swiss francs ($13.4 billion) in 2019, compared with 12.8 billion Swiss francs ($13.3 billion) in 2018. The majority of the revenue was contributed by the Centralised and Point of Care Solutions (CPS) business area, with growth coming from immunodiagnostics, according to Roche.
In other news, Roche announced that it is working with the World Health Organization and Chinese authorities in support of the coronavirus outbreak, and the firm has donated diagnostic tests, medical supplies, and financial support. Roche noted that its flu treatment products are designed for specific strains of the virus and would most likely not be effective with the coronavirus.