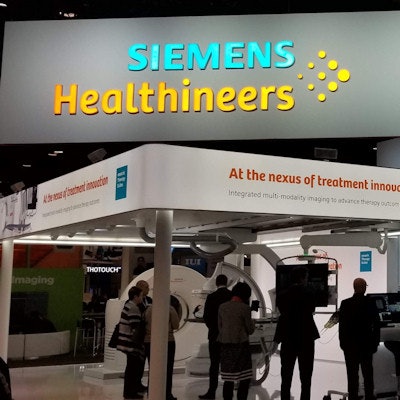 Siemens Healthineers saw profit decline at its Diagnostics unit for the third quarter (end-June 30), as the company experienced issues related to the ramp-up of its Atellica Solution line of blood and urine analyzers. At the same time, the company said the chief executive of the Diagnostics business would be leaving the firm.
For the quarter, the Diagnostics business posted revenue of $1.16 billion (1.043 billion euros), up 4% on an actual basis from $1.12 billion (1.007 billion euros) the year before, but only up 1% after adjusting for currency fluctuations. The division's profit fell to $84.7 million (76 million euros), compared with $117 million (105 million euros) in the third quarter of fiscal 2018.
The company said it has shipped more than 1,230 Atellica Solution analyzers year to date, but ramp-up costs attributable to the product line and unfavorable currency changes affected profit margins. In an article on the financial results, Reuters reported that Siemens has reduced its forecast of the number of Atellica analyzers it expects to ship this year to 1,800 machines from a previous forecast of 2,200 to 2,500.
Siemens Healthineers CEO Bernd Montag acknowledged the issue in the Diagnostic business in reporting the Q3 results, which were a departure from positive numbers in the rest of the company. Overall, Siemen Healthineers posted revenue of $3.98 billion (3.569 billion euros), up 6% from $3.7 billion (3.3 billion euros) in 2018, after adjusting for currency effects. Net income was $393 million (353 million euros), an increase of 20% over $326 million (293 million euros) in 2018.
"We are facing challenges in the [Diagnostics] business," Montag said. "We are tackling these issues resolutely and are focusing with our outstanding Atellica Solution Platform vigorously on improving growth and earnings strength."
Simultaneous with the release of the Q3 financial results, Siemens reported that the head of the Diagnostics business, Michael Reitermann, will step down from his post on September 30 and leave the company. Montag will then be responsible for the Diagnostics business.
Siemens thanked Reitermann for his contributions to the Diagnostics unit, which he helped build through three acquisitions in 2006 and 2007, according to Siemens.