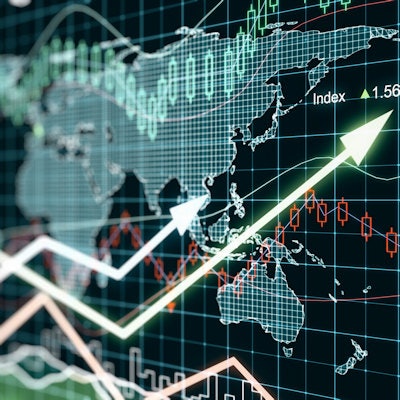 The global IVD market is currently worth some $69 billion annually, and its dynamics are being shaped in part by trends in diagnostics for cancer and infectious diseases, according to an analysis by Kalorama Information.
Kalorama routinely assesses market opportunities and trends using a combination of vendor interviews and secondary research, and it published its "Worldwide Market for In Vitro Diagnostic Tests" report in August. In October, Kalorama performed an updated analysis, and while general market trends have not changed from August, the firm identified new trends and made some regional assessments.
North America: The North American IVD market is worth $31 billion in 2019, and it is expected to reach $37 billion by 2024, reflecting a 4% compound annual growth rate (CAGR). The U.S. has the majority of this market, with the remainder generated in Canada. Although the growth rate is expected to slow down in the forecast period, largely due to U.S. reimbursement cuts related to the Protecting Access to Medicare Act (PAMA), there are growth areas that are making investors bullish. Specifically, investors are keen on next-generation sequencing (NGS), cancer testing, and companion diagnostic technologies.
Japan: In 2019, the Japanese market for IVDs is estimated at $4.9 billion, and with an average 4% annual growth, it will reach $6 billion in 2024. Japan is the second largest single-country market after the U.S. and, thus, holds an important place in the IVD market. While the market for IVDs in Japan remains stable, the Japanese government is battling significant challenges in containing overall healthcare costs as its population ages and the national budget deficit continues to expand.
Europe: European markets improved over the past two years -- slightly but steadily. Overall, economic conditions hit the European Union hard, and this had repercussions for the diagnostics industry, resulting in almost no growth for a few years and a 1.5% rebound from 2012 to 2016. In spite of stagnating or decreasing revenues in four of the five largest European IVD markets (the U.K. being the exception), overall revenues across the 27 EU member states began to increase by approximately 1% per year, continuing to reverse a trend of market losses starting in 2012 from a high in 2011. For 2019, there continues to be stronger signs of recovery in the major European markets, many of them exceeding the region's average 4% growth.
Personalized medicine presents an opportunity for European concerns to counter reimbursement cuts. Europe has lagged the U.S. in the development of personalized medicine, but some countries are increasing the number of programs.
New cancer tests
The hunt is on for new cancer tests. Mass spectrometry is expected to play an important role, and several tests are available from test service providers while others are in development. A major trend is to capitalize on immunoassay capacity to measure T-cell activity as a function of immune response to therapy.
In June 2019, Dako North America received approval from the U.S. Food and Drug Administration (FDA) for its immunohistochemistry (IHC) 22C3 pharmDx assay for an expanded indication in programmed cell death ligand 1 (PD-L1) laboratory testing. The test was previously approved to identify PD-L1-positive tumors in patients with lung, gastric, urothelial, cervical, and head and neck cancer. It is now also approved for use in determining whether patients with head and neck squamous cell carcinoma are eligible for treatment with the medicine pembrolizumab (Keytruda, Merck).
In May, Qiagen received FDA approval for its therascreen PIK3CA RGQ polymerase chain reaction (PCR) kit. The test is used to evaluate patients with advanced or metastatic breast cancer eligible for treatment with alpelisib (Piqray, Novartis). It is used to detect 11 mutations in the PIK3CA gene in tumor tissue or blood plasma. In breast cancer tissue, mutations in the PIK3CA gene cause an altered form of the PIK3CA protein and result in abnormal functioning. Identifying these mutations will help patients with breast cancer obtain personalized treatment.
Also in May, Grail's multicancer test received designation as a breakthrough device by the FDA. Grail previously reported data from the first preplanned substudy of its Circulating Cell-free Genome Atlas (CCGA) study, which showed that its three prototype NGS blood tests were able to detect multiple cancer types from a single blood draw, with a low rate of false-positive results (high specificity). The company has since selected methylation as its preferred approach and has developed a methylation sequencing blood test that preferentially targets the most informative regions of the genome to both detect the presence of multiple types of cancer and identify the tissue of origin. The blood test is currently being evaluated in the second preplanned substudy of CCGA.
In October, Cepheid received FDA clearance for its Xpert BCR-ABL Ultra test for monitoring disease in patients with chronic myeloid leukemia. The test can deliver accurate molecular results from whole blood samples in less than three hours, according to the company.
New developments in infectious diseases
The Ebola and Zika viruses are among several emerging infectious diseases that have caught the attention of diagnostic developers, while there is still a focus in the space on HIV and other infections.
Luminex announced it is launching its Verigene II before the end of December. Verigene II is a next-generation molecular instrument designed to enhance flexibility for changing patient populations. The planned assay menu includes gastrointestinal, respiratory, and bloodstream infection testing.
In October, Luminex received FDA clearance for the Aries methicillin-resistant Staphylococcus aureus (MRSA) assay. The assay is an integrated, PCR-based qualitative IVD test for detecting MRSA DNA from nasal swabs in patients at risk for nasal colonization.
Sepsis is a growing problem, and early detection is crucial for patients. Approximately 1.7 million individuals in the U.S. develop sepsis each year, and there is currently no gold standard for diagnosis in the clinical setting. The global sepsis market is worth about $840 million in 2019, with procalcitonin (PCT) methods accounting for about $250 million.
Procalcitonin and lactate are two established biomarkers for sepsis, but they have limitations. Several European studies have reported a reduction in antibiotic usage with PCT-guided decision-making, but a large multicenter U.S. study did not show similar results.
A novel marker called human neutrophil lipocalin (HNL) -- a glycoprotein released from activated neutrophils during bacterial infections -- has attracted some attention. Several point-of-care (POC) sepsis analyzers have been introduced to the market, including Siemens Healthineers' RapidPoint 500, Roche's cobas b 221, and Instrumentation Laboratory's Gem Premier 5000. Portable devices have also been introduced, including Nova Biomedical's StatStrip Lactate and Abbott's i-Stat.
In May, Qiagen received FDA clearance to market its QIAstat-Dx syndromic testing system and respiratory assay panel for detecting multiple respiratory viral and bacterial pathogens. The panel provides simultaneous testing for more than 20 pathogens. Syndromic testing with molecular diagnostics can identify illnesses that manifest as a set of symptoms with uncertain causes, such as influenza or pneumonia. Qiagen said it expects to release numerous diagnostics for infectious disease, oncology, and other areas.
Bruce Carlson is the publisher of Kalorama Information, part of Science and Medicine Group.
Disclosure: LabPulse.com is a sister company of Kalorama Information.