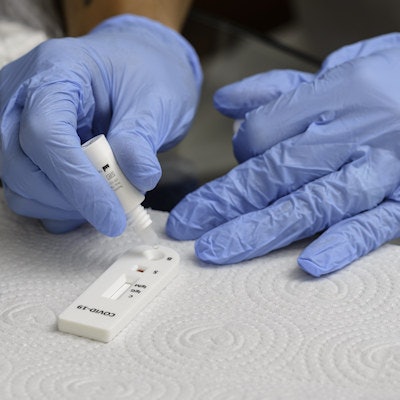 Out of a very bad year where the COVID-19 pandemic brought the world to its knees has come some good, investors say. Point-of-care diagnostics tests are flourishing, according to panelists at the Biotech Showcase investor conference, held online from January 11-15.
Point-of-care testing has experienced a lasting shift that has the potential to expand access to diagnostics globally. Diagnostics entered the limelight in 2020, taking their rightful place at the center of the current and future healthcare systems, said Steve Dickman, CEO of life sciences consulting firm CBT Advisors, during an on-demand panel session at the Biotech Showcase, which is held annually in parallel with the J.P. Morgan Healthcare Conference.
The diagnostics session highlighted disruptive diagnostics technology platforms aimed at delivering simple but highly accurate testing solutions for use closer to the patient.
A great need for change
Experience with COVID-19 has cast a bright light on the state of healthcare and the great need for change, which has already begun, said panelist Rahul Dhanda, co-founder and CEO of Sherlock Biosciences, a pioneer in diagnostics based on CRISPR gene editing technology. At the start of the pandemic, tests were not widely available and had to be rationed; diagnosis and treatment were focused on symptoms, which is not atypical in the healthcare space, Dhanda noted.
But as time went on, there was a shift in thinking about the distribution of diagnostics outside standard structures -- both in terms of how samples are accessed and how results are delivered, he said. Sherlock's CRISPR SARS-CoV-2 lab-based test kit received emergency use authorization (EUA) from the U.S. Food and Drug Administration in May. Designed for use in CLIA-certified laboratories, the molecular testing product delivers results in about one hour.
Sherlock, which is based in Cambridge, MA, is also developing products based on its internal splint-pairing expression cassette translation reaction (INSPECTR) platform. The firm's synthetic biology technology supports instrument-free handheld testing, including paper-strip diagnostics and over-the-counter disposable rapid molecular tests for COVID, much like the well-accepted home-based pregnancy tests, according to the company. In December, the company announced that it received a $5 million grant from the Bill & Melinda Gates Foundation to advance development.
What's needed now is appropriate management of a new set of tools, in Dhanda's view.
"We are seeing a trend toward self-testing that pre-COVID was a great dream of anybody who had spent their career in diagnostics and now is a reality that we all want to see happen and are developing technologies to get there," the executive said.
The goal of bringing molecular diagnostics anywhere and everywhere becomes easier with the variety of applications now available, Dhanda added. Sherlock plans to make point-of-care diagnostics products available, with the ability to deliver results in developing as well as well-developed countries.
"If we are going to make these strides forward and we are committed to healthcare, we have to be committed to the equitable distribution of those healthcare solutions," Dhanda said.
We are now seeing a surge of technologies get to the market that enable point-of-care testing in less resource-intensive environments, including at home, said Jeff Hawkins, CEO at San Diego-based Truvian Sciences. That's a trend that contrasts with the lack of rapid testing at the start of the pandemic; the change was made possible by public and private investments, Hawkins noted.
Don't mess with Mr. In Between
Truvian has developed a blood-based point-of-care platform with the aim of introducing "something as disruptive as humanly possible." Point-of-care diagnostics should offer the quality of a central lab, yet be easy to run sitting on a countertop, Hawkins suggested.
Truvian's EasyCheck immunoglobulin M and G (IgM/IgG) COVID-19 antibody test received an EUA in July. The company is looking to partner with global healthcare players to take the platform into regions across the world, including areas where people don't have access to healthcare unless they live near a major city center and where -- if diagnostics are available -- they are typically of very low quality.
Infectious disease diagnostics is a key area of investment focus at Artiman Ventures, said panelist Ajit Singh, PhD, a partner with the firm. Furthermore, the company values the ability to diagnose infections quickly, at low cost, and with no need for a high level of expertise in administration -- all achieved without sacrificing accuracy.
One of the companies in Artiman's portfolio attracting attention in the last year is Visby Medical (formerly called Click Diagnostics). Visby, which was founded by Stanford University professor Adam de la Zerda, PhD, developed a handheld disposable polymerase chain reaction (PCR) test for COVID-19 that it said requires only two minutes of hands-on time for testing and delivers results within 30 minutes.
The company's single-use personal PCR test received an EUA from the FDA in September 2020, paving the way for use in moderate complexity lab environments. Per the EUA, swabs may be taken by a healthcare professional or self-collected by a patient under supervision.
Founded in 2012, Visby had originally developed the technology platform for use in diagnosis of sexually transmitted diseases, but switched gears quickly in 2020 to apply it to the development of a viral RNA test for COVID-19. While the turnaround time from the start of the pandemic and EUA was fast, the concept for a simple test for infection was originally envisioned in 2010-2011 and development took several years.
The company has been producing about 50,000 devices per month, according to Singh. Funding granted by the U.S. National Institutes of Health and the Biomedical Advanced Research and Development Authority in October 2020 will be used to scale up manufacturing. While currently authorized for use in labs, the product is being positioned for over-the-counter use.
Addressing collateral damage
When considering the effect of the pandemic on diagnostics development, it's important to see beyond the coronavirus itself and to take stock of collateral damage worldwide, suggested Madeline Repollet, PhD, head of clinical laboratories at Angle, which has offices in the U.K. and the U.S. Research suggests that as many as 20% of coronavirus cases in U.K. hospital patients were actually transmitted in the hospital setting.
Consequently, patients fear going to the hospital, and procedures deemed to be unnecessary have been scaled back, Repollet noted. This is driving a need for liquid biopsies in oncology, with blood drawn at home by a visiting professional or at a collection center, as an alternative to invasive tissue biopsies, she said.
Angle's research-use-only (RUO) Parsortix technology is used for genetic testing of circulating tumor cells, using a 10-mL blood sample in an ethylenediaminetetraacetic acid (EDTA) vacutainer tube. The company is focusing on how to make this available to patients who have not received treatment during the pandemic, Repollet said.